Tonganoxie girls fall to Atchison, preparing for substate clash with top-rated Piper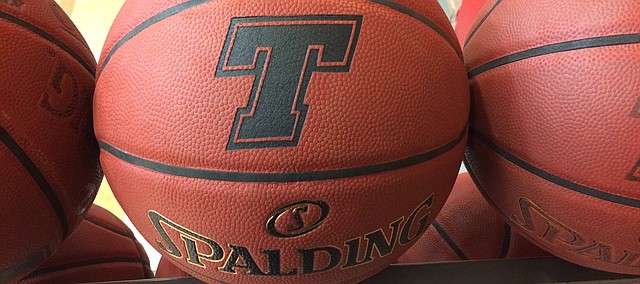 ATCHISON — Once his team got in early foul trouble, Tonganoxie coach Matt Frost decided to play a 2-3 zone and pack the paint to force Atchison — known for punishing teams in the paint — to shoot jump shots.
But Atchison made 9-of-14 three-pointers, and that was too much for Tonganoxie to overcome in a 58-46 road loss on Friday night.
"They haven't done that all year," Frost said. "If they're going to beat us making nine threes there's not a whole lot you can do about that."
However, the Chieftains were beating themselves early in the game. They committed three turnovers in the first two minutes, and dug themselves a 7-2 hole. But senior Taylor Lee scored 14 points and hit two shots from beyond the arc over the next eight minutes to give the Chieftains a 20-18 lead.
Even though the Chieftains struggled to score for the remainder of the half, they still only trailed 25-23.
However, Atchison was able to score the knockout blow to start the third quarter.
Junior Chesney Downing scored six of her 18 points on back-to-back three-pointers, helping Atchison a 33-23 lead.
"We weren't expecting that at all," Lee said. "We were expecting her to stay in the paint. We were just told to get a hand up. She's a good athlete."
During that same time, Tonganoxie couldn't find any successon offense. THS committed four turnovers on its first six possessions of the third quarter, and even after the turnovers stopped, the offense still struggled.
Lee — who scored a game-high 26 points — had just two in the third quarter. With the offense sputtering, the Chieftains looked to get to the basket. But most of their layups were blocked or altered at the rim, and much to Frost's dismay, they hardly got to the free throw line.
"We weren't getting to the foul line," Frost said. "We only shot six free throws all night, which was crazy from my perspective with as much as we were throwing the ball inside.
"I'd like to come back, get the ball inside and get to the free throw line (with the offense struggling) but that just wasn't happening."
The Chieftains were never able to pull any closer than eight for the remainder of the game, but Frost was pleased with the effort his team showed down the stretch.
Senior Mykah Wingerter, junior Mia Bond and sophomore Corinn Searcy each scored in the fourth quarter and kept the Chieftains within striking distance, but they were never able to get over the hump.
Now Tonganoxie will turn its attention to the first round of substate. THS will travel Friday to Kansas City, Kan. to play the top-ranked team in Class 4A Division I, Piper, in a substate game. The Chieftains (7-13) have already played the Pirates (19-1) twice this season and lost both games, but a third loss would end their season.
"This could be my last time playing in high school," Lee said. "So I'm going to give it my all and leave it all on the court."
AHS 58, THS 46
Score by quarters
Tonganoxie 15 8 9 14 — 46
Atchison 13 12 16 17 — 58
Individual scoring
Tonganoxie — Taylor Lee 26, Mykah Wingerter 5, Mia Bond 5, Anna Soetaert 1, Corinn Searcy 4, Taylor Knipp 3, Layren Gray 2.
Atchison — Kate McCoole 12, Mattie Dougherty 2, Chensey Downing 18, Libby Harper 4, Linssay Anderson 9, Kadejah Ross 13.