Tonganoxie High boys can't overcome early deficit in regular-season finale; Piper next in substate Friday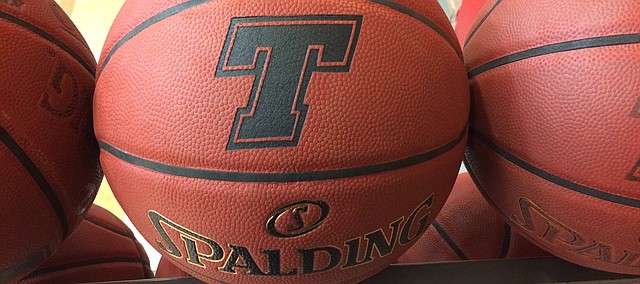 ATCHISON — Facing a 13-point deficit just four minutes into the game and missing its starting point guard, Tonganoxie coach David Hillmon admitted it would have been easy for his team to fold.
"If you look at our season overall, for guys to stay focused, locked in, and still be committed to the program and the process," Hillmon said, "that means a whole lot to me as a first-year head coach. We have to continue to trust the process and develop a winning culture."
But the early deficit coupled with 22 turnovers was too much for Tonganoxie to overcome, as it fell 57-44 at Atchison on Friday night.
However, the Chieftains (4-16) faced adversity well before the opening tip. After taking a blow to the head in practice Thursday, junior Mason Beach was unable to play Friday with concussion symptoms.
Although Hillmon was proud of the job junior Isaiah Frese did in Beach's place, the Chieftains struggled against the Redmen's pressure defense early on.
Their first four possessions all resulted in turnovers, and they trailed 14-1 midway through the third quarter.
"It would have been easy for us just to say, 'you know, it's just not our night,'" Hillmon said. "But we didn't. Our guys battled back."
Tonganoxie began to crack the Atchison zone by throwing the ball to senior Dakota Grey at the elbow. He assisted on three of the Chieftains' first five baskets, including a three-pointer by junior Chandler Caldwell for three of his team-high 17 points to pull them within 14-12.
Moments later, with the score 16-14 in favor of Atchison, it seemed THS finally settled in. But Atchison ended the half on a 15-4 run, aided by THS turnovers and fouls.
"We had cut it to two, but you look up and we're down 15 at the half," Hillmon said. "It's like, 'man, how did that happen?' Well there's a parade at the free throw line and we're turning the ball over."
The Chieftains once again battled back in the second half. They held Atchison scoreless for the first 3:23 of the third quarter, and went on an 8-0 run to pull within 34-26. Junior Mac Thompson scored five of his 11 points in that stretch.
The Redmen kept the Chieftains at arms length, but they still had hope midway through the fourth quarter, down 12 with four minutes to play.
But Atchison freshman Cougar Downing scored six of his game-high 21 points with three-pointers on consecutive possessions to put the game out of reach for Tonganoxie.
"Cougar made us pay," Hillmon said. "We couldn't make a third run at it. I was really proud of the fight the guys showed tonight. We handled adversity well tonight."
With its regular season in the books, Tonganoxie will travel Thursday to Kansas City, Kan., for the first round of substate against host Piper. Tipoff is set for 7:30 p.m.
THS (4-16) has played Piper (18-2) twice this season and lost both matchups. PHS is ranked No. 2 in the state in 4A D-I

"We have to be able to handle their length and athleticism," Hillmon said. "We have our hands full, and we wouldn't want it any other way."
Atchison 57, THS 44
Score by quarters
Tonganoxie 7 11 13 13 — 44
Atchison 14 14 10 14 — 57
Individual scoring
Tonganoxie — Mac Thompson 11, Isaiah Frese 3. Dakota Grey 7, Chandler Caldwell 17, Michael Mast 2, Dylan Kleidosty 2, Eric Neas 2.
Atchison — Cougar Downing 21, Adam Smith 11, Cole Batemon 10, Derek Thompson 6, Taye Helms 9.