Piper boys end Tonganoxie's season at
PHS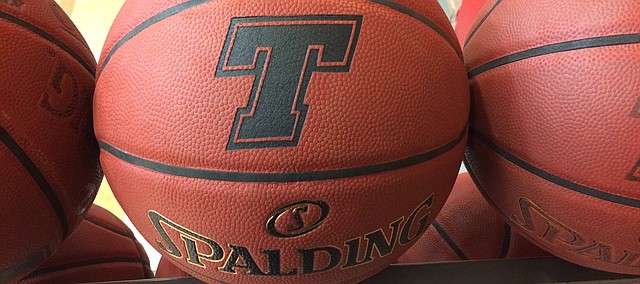 The Tonganoxie High boys basketball team hoped a third meeting with state-ranked Piper would provide the upset charm, but THS couldn't pull off the victory.
Piper prevailed, 67-50, ending Tonganoxie's season in a Class 4A Division I substate tournament game at PHS in Kansas City, Kan.
THS lost its first game of the season against Piper by 33 points, but lost by 15 in the second meeting.
Piper scored the first eight points of the game, though Tonganoxie clawed back, trailing 12-6. But the Chieftains wouldn't get any closer. THS finished its season 4-17 with the substate loss.
Top-seeded Piper (19-2), ranked No. 2 in 4A D-I, will take on No. 2 seed Basehor-Linwood (15-5) at 7:30 p.m. Saturday in the substate championship. BLHS advanced with a first-round victory against Atchison (10-11).
Piper 67, Tonganoxie 50
THS 12 11 14 13 — 50
Piper 21 14 21 11 —67
THS 2016-17 results
BALDWIN, L, 61-48 (0-1)
OTTAWA, L, 62-31 (0-2)
PIPER, L, 56-23 (0-3, 0-1)
at Eudora, L, 57-48 (0-4, 0-1)
at Basehor-Linwood, L, 54-24 (0-5, 0-2)
at Bonner Springs, L, 47-44 (0-6, 0-3)
& Wamego, L, 49-42 (0-7, 0-3)
& Holton, L, 45-39 (0-8, 0-3)
& De LaSalle, W, 61-51 (1-8, 0-3)
at Heritage Christian, W, 53-52 (OT) (2-8, 0-3)
BISHOP WARD, W, 41-22 (3-8, 1-3)
at Turner, L, 56-33 (3-9, 1-4)
at Piper, L, 59-44 (3-10, 1-5)
BASEHOR-LINWOOD, L, 57-25 (3-11, 1-6)
at Lansing, L, 50-45 (3-12, 1-7)
LANSING, L, 50-48 (3-13, 1-8)
Turner, L, 68-55 (3-14, 1-9)
! Bishop Ward, W, 37-31 (4-14, 2-9)
BONNER SPRINGS, L, 62-44 (4-15, 2-10)
at Atchison, L, 58-46 (4-16, 2-10)
% Piper, L, 67-50 (4-17, 2-10)
& - Tonganoxie Invitational games
! - Game played at Kansas City Kansas Community College
% - Class 4A Division I substate first round at Piper