Gallagher Park progress in Tonganoxie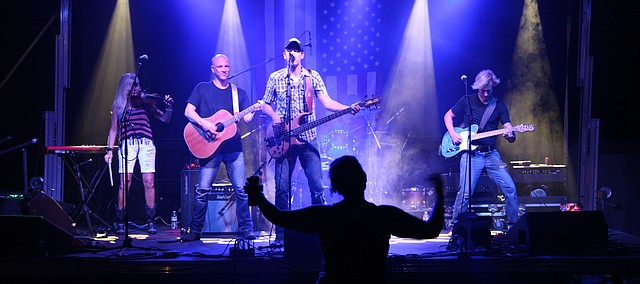 A sign and a brick-laden gathering spot have helped Gallagher Park take shape, but more upgrades are planned for the Tonganoxie landmark.
Kay Soetaert, part of the park's citizen task force, said a kiosk and flagpole are in future plans, as are park benches.
She said workers also will "level off some of the ground where it slopes and keep it open green space for events."
The kiosk will have three sides: one telling the history of Tonganoxie, a second with map of Chieftain Trail and a third with information about events. Soetaert said Brad Eccles, assistant director at the Tonganoxie Recreation Commission, has volunteered to update the events listing.
"We hope to have that done and in there in early May," Soetaert said.
Engraved bricks to be placed in the park continue to be available for sale.
The bricks can be purchased for $100, with additional information available at the city of Tonganoxie's website, tonganoxie.org. Click on the "Government" tab and then find "The Gallagher Park Project."
The park started as a concept in 2012 when Harry Gallagher Jr., son of Margaret and Harry Gallagher, Sr., donated the land at 301 S. Main St. to the city. For many years Margaret and Harry Sr. raised their children in a small home on the property. Upon Margaret's death, her children gifted the land to the city to build a public park. To honor the Gallagher Family, the City Council named the property Gallagher Park on Sept. 2, 2014.
Mayor Jason Ward and the Council appointed a citizen task force to help design the park in a way that would best benefit citizens of the community. The goal was to have a park that would serve people using Tonganoxie Water Park next door, the Chieftain Trail and those living and working near downtown.
The park also became a focal point for last year's Tonganoxie Sesquicentennial. The community gathered in the park for musical entertainment at the festival. It again will be the site for music June 10 for Tonganoxie Days.