Taxes, education dominate legislative forum in Tonganoxie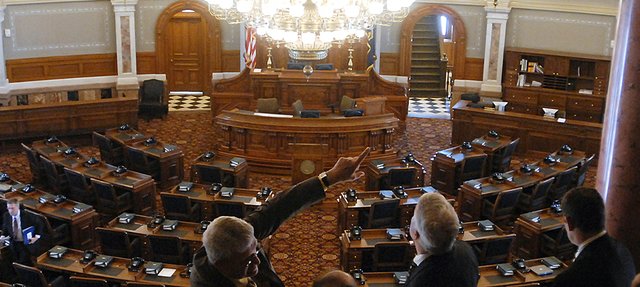 Taxes and education dominated the first legislative update of the latest Statehouse session Saturday at Tonganoxie VFW Hall.
Sen. Tom Holland, D-Baldwin City, Rep. Jim Karleskint, R-Tonganoxie and State School Board Member Janet Waugh of Kansas City, Kan., spoke during the forum.
Tonganoxie USD 464 School Board Member Dan Hopkins, who also is a member of the VFW, was asked to sit as part of the panel halfway through the forum.
Holland noted that the latest election signaled a change in the Senate's makeup, with eight conservative member retiring and another six being defeated in the last election.
"What a difference an election makes," Holland said.
The Kansas Senate just missed overriding a Gov. Sam Brownback veto of a Senate bill rolling back Brownback's income tax cuts in 2012 and 2013.
"We're not excited about raising taxes," Holland said. "I don't know that any legislator is."
Holland said he has introduced a constitutional amendment to limit even-year sessions to 60 days from the standard 90-day sessions each year.
"We need to get in and get out," he said.
While Holland is a seasoned incumbent, this is Karleskint's first session as a legislator. He defeated longtime Rep. Connie O'Brien, R-Tonganoxie, in last year's primaries before defeating Tonganoxie City Council Member and Democrat Kara Reed in the general election.
Kaleskint, Waugh and Holland all discussed the Kansas Supreme Court's recent decision that kindergarten through 12th grade education was underfunded.
Waugh said she didn't envy the two legislators in determining how to better fund education.
She said she had concerns about Kansas teachers leaving the state for better jobs in neighboring states or the profession altogether.
And she lamented growing class sizes for teachers.
"Yes, a great teacher can teach 35, but what can she do with 20. Or he," Waugh said.
Waugh also spoke about getting students ready for careers.
She mentioned being part of a group that evaluated "what a successful 24-year-old looks like."
"First, does not live in parents' basement, when they talk to you they look you in the eye," she said. "Show up to work on time. Get a job in a timely manner."
She said those are soft skills that need to be taught alongside regular coursework. Waugh also stressed the importance of childhood education.
"We have the data," she said.
Discussion at one point moved to Education Secretary Betsy DeVoss, specifically school choice and vouchers.
Waugh said though vouchers might be good in state's ranking low in education, she didn't think they would be a good fit in Kansas.
Hopkins, meanwhile, said he favored them because they encouraged competition.
He also noted that Genesis Christian Academy students perform well and often are ahead of Tonganoxie Elementary School students.
Pleasant Ridge Superintendent Charles Coblentz was in the audience and also fielded some questions from residents about where certain money goes for districts.
Discussion eventually turned to jobs, with one couple in the audience vocal about struggles with their occupations. They especially hammered Karleskint with questions about how to be more efficient with the state's money and making cuts.
Though there's been a stigma with LLC businesses doing well with Brownback's income tax cuts, they contend they've not experienced the huge kickbacks that have been perceived by some.
Longtime VFW member Larry Meadows handled moderating duties, though he started the forum by recognizing a fellow VFW member Harold Denholm, who for years had handled moderating duties. Denholm received a standing ovation from the roughly 30 people in attendance.
Tonganoxie VFW Post 9271 and First State Bank and Trust sponsored the event. They also sponsor candidate forums during election years.