Tonganoxie
USD

464 selects Iowa company for nearly $178,000 in track upgrades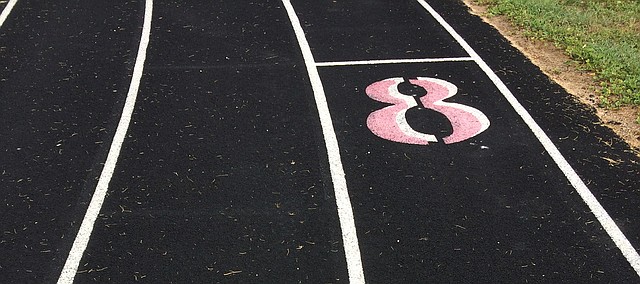 Tonganoxie USD 464 is moving forward with track improvements at Beatty Field.
The board approved a contract with Fisher Tracks for nearly $178,000 to upgrade the district's track and runways just west of the stadium. The Boone, Iowa, company will begin work in May to revamp the track, including converting it to a 400-meter track. It was determined that the track previously wasn't quite at 400 meters. In addition to the track work, the runway for jumping events and pole vault will be w upgraded.
Executive session
The board met for an hour in executive session to discuss non-elected personnel for an hour and then requested an additional 20 minutes. During the first closed-door session, patron Francie Campbell, her daughter Samantha and husband met with the board. Interim Superintendent Tonya Phillips joined the board for all executive sessions Monday. No action was taken after the board came back into open session.
Board member praises teacher
Board Member Bryan Kemp, who is affiliated with the Leavenworth County Beef Association told fellow board members he was proud of first-year THS agricultural education teacher Shelby Siemens.
"She has been getting really involved with the community and made a big impression on the county at our meeting," Kemp said. "She was a part of it. She didn't have to come to it. That's something I'm proud of."
Law enforcement officials commend career pathways
Board vice president Dan Hopkins shared that Tonganoxie police had spoken to him about the high school's career and technical programs, specifically two students who are doing ride-alongs with TPD. He said the official commended the program for getting students out in the community.
Board OKs March hires
Here's a list of approved March hires: Forrest Creager, technology coordinator (replacing David Milhon), effective March 27; Brian Gravatt, maintenance (replacing Robert Lewis), 2016-17; Joey Mantooth, bus driver (replacing Julie Price), 2016-17; Ron Nichols, THS track assistant coach (replacing Rachel Schaffer), 2016-17; Shawn Sivyer, TES custodian (replacing Brian Gravatt), 2016-17; Heather Ackley, THS life skills teacher (replacing Jessica Goode), 2017-18; Brady Field, THS language arts teacher (replacing Esther Mackintosh), 2017-18; Kalli Kruse, TES fifth-grade teacher (replacing Kathy Powell), 2017-18; Nancy Patton, TES Title 1 math teacher (replacing Gail Kiefer), 2017-18; Brittany Pearl, TES counselor (filling new position), 2017-18; Matthew Thierolf, THS social studies teacher (replacing Andrew Gilner), 2017-18; and Diane Titterington, TES physical education teacher (replacing Ursula Kissinger), 2017-18.
Resignations
The board received several resignations, including ones from the THS girls basketball coach and an assistant: Hazel Burgess, TES custodian, effective immediately; Ashley Nester, TES special education para educator, effective March 10; Matthew Beat, THS freshman girls' basketball assistant coach, effective end of 2016-17 school year; Matthew Frost, THS girls' basketball head coach, effective end of 2016-17 school year; Jessica Goode, THS life skills teacher, effective end of 2016-17 school year; and Esther Mackintosh, THS language arts teacher, effective end of 2016-17 school year.
Retirements
Patricia Menhusen, TMS library aide, effective end of 2016-17 school year.
New position
TES counselor. this position will replace the current TES health teacher position being vacated by Diane Titterington.