Leavenworth senator's response to donation likens Planned Parenthood to Nazi concentration camp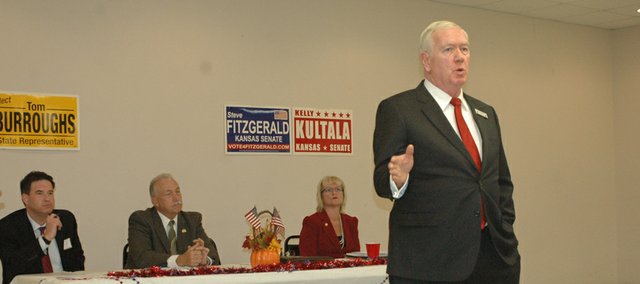 Topeka — A Kansas legislator is standing by a comment he made in a letter comparing Planned Parenthood with a Nazi concentration camp.
Republican state Sen. Steve Fitzgerald of Leavenworth told The Kansas City Star on Monday that he considers Planned Parenthood worse than the Nazi regime in Germany.
Planned Parenthood Federation of America President Cecile Richards called Fitzgerald's comments disturbing and said he should be ashamed.
Fitzgerald is a strong abortion opponent. He sent a letter to Planned Parenthood Great Plains last week after learning a donation had been made in his name.
He said in his letter on official Senate stationery that such a donation in his name was worse than "having one's name associated with Dachau."
The Planned Parenthood chapter tweeted a photo of the letter
On Tuesday, the Kansas Democratic Party's executive director, Kerry Gooch, issued the following call to Kansas Senate Leadership following Fitzgerald's comments about Planned Parenthood and the comparison to what the Nazis did during the Holocaust.
"These statements by Sen. Fitzgerald are not only outrageously false, they are dangerous. A public figure must realize that his words have consequences, particularly such inflammatory claims as these. The Kansas Democratic Party is calling on Senate Leadership to reprimand Senator Fitzgerald swiftly and sharply. This type of rhetoric is absolutely unacceptable from a Kansas leader, and will not be tolerated."
In addition, the KDP has started a petition demanding action be taken against Sen. Fitzgerald by Senate Leadership, which has received more than 300 signatures just as of this morning.
— Shawn F. Linenberger contributed to this story.