Remember When: A Community Review for March 15, 2017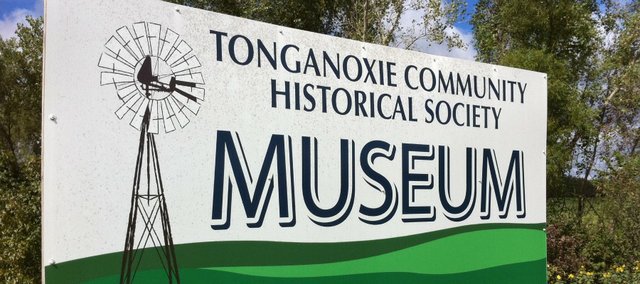 10 years ago: March 14, 2007
Roofers worked under blue skies Monday afternoon on the south side of Tonganoxie Evangelical Friends Church. The 114-year-old church building at Fourth and Shawnee was struck by lightning June 30, 2005. However, the lightning didn't damage the inside of the church.
Tonganoxie resident Tim Tice will compete this weekend at the Kansas Special Olympics state basketball tournament in Hays. This past weekend, he helped his team, the Elites, win gold in Johnson County.
Steve Jack, the new executive director of Leavenworth County Development Corp., led his first board of directors meeting Thursday at the Lansing Community Center. LCDC's president, Tony Kramer, also discussed issues regarding a possible National Bio and Agro-Defense facility near Fort Leavenworth.
Tonganoxie is turning a little green in preparation for the 19 th annual St. Patrick's Day parade this Saturday. It will be special because it will actually be on St. Patrick's instead of the Saturday closest to the holiday.
25 years ago: March 18, 1992
Tonganoxie turned green during the fifth annual St. Patrick's Day parade held in downtown. The float winners were first place,
The Tonganoxie Community Theatre presents "Takeoff," "a high flying musical with a cast of 52 stars."
The musical was written by Frank Gilgin of Tonganoxie. You can see "Takeoff" at the Tonganoxie High School auditorium at 8 p.m. March 20 and March 21 and 3 p.m. March 22. A donation of $3 per adult and $1.50 per child is being requested.
Sue Sprague, the assistant librarian at the Tonganoxie Library is pictured with a cake in the shape of a prairie schooner, complete with wheel. The cake was baked by a retired gentleman in Brackley, England, who bakes cakes as a hobby. Sue's parents who are from Brackley, England, had photographed a schooner in the Leavenworth museum and showed it to the gentleman. Unbelievable, but the cake arrived here in perfect condition after a long journey.
50 years ago: March 9, 1967
The April election ballot includes a mill levy for a summer recreation program for Tongie to fund baseball, swimming lessons, arts, crafts, and the use of the gyms and city facilities with qualified instructors.
SP 4 Roger Shilling is home on leave from the service until March 26 th when he returns to Panama.
Samsonite luggage was advertised $44.50 for 2 pieces from Quisenberry's Home Furnishings store.
There were best wishes in the Mirror for the basketball team in their upcoming state tournament in Hutchinson.
A 3-bedroom home, with implement shed, city water, ten acres and located off highway was only $13,500 per Evans Real Estate ad in the Mirror.
75 years ago: March 12, 1942
Sugar Addict Edict! Three important government individuals will be on hand at the Leavenworth County Courthouse to present sugar rationing rules. School age children will bring home leaflets outlining the new regulations that list the laws in ration books. Any sugar that you already have on hand can be kept, but a ration stamp must be surrendered.
Remember Pearl Harbor and how your war bond dollars are helping to build our military. Every purchase provides anti-aircraft guns, planes and tanks. Take it from us-it's a lesson in unity.
Red Cross War Sale will be held at the Tonganoxie Sales Pavilion, Fourth and Main this Saturday. Perry Walters is the manager and his assistants will donate their services. Participating in this sale will help the Red Cross to help your boys and other boys in case of need. Mann's Grocery encourages all of us to "Pay our taxes and beat the axis". By remanding your tax money to the government, we can best the enemy even quicker. Troop trains continue to rumble through Tonganoxie heading westward to Wyoming, San Diego, San Francisco and Anchorage.
And this in from Hollywood — local Tonganoxie boy, Mal Merrihugh, is now performing as a stand in for dreamy star Cary Grant. Merrihugh has been awarded "Most Outstanding" for his portrayals.
100 years ago: March 15, 1917
The first drilling for oil and gas in Leavenworth County started last week at the Elm Grove school house in Fairmount township. The first hole being sunk is close to the public road and only a few feet from Elm Grove school grounds.
The local Women's Christian Temperance Union met with Mrs. Herman Cronemeyer on March 7 and completed its organization. This Union will be known as The Willard Union.
Lost, between Tonganoxie and Reno, a crank to a motor car. Finder please return to WC Phenecie and receive reward.
A few minutes spent in our millinery parlors will at once convince you that our prices are absolutely unmatchable for the qualities we show.
125 years ago: March 17, 1892
Last week's fire, which destroyed the Tonganoxie State Bank and City Hotel, is still in the news. Though Englishmen by birth the Lamings are going ahead with true Yankee grit and cheer as if nothing happened.
On the site of the destroyed property they will build a two story brick structure as soon as possible. Three rooms will be on the ground floor, the corner to be used by the bank, and the upper room will be used for a hall, which will be 60 feet long. At the rear of the building there will probably be added a couple rooms for sleeping quarters for a watchman.
A couple rooms will be added to the Jahn building at the rear. And the lower floor at the rear and the lower floor will be nicely fixed up for a dining room and office so the place can be used for a hotel. It is not yet decided who will run the hotel when it is opened.
It gives The Mirror pleasure to see such evidence of push and progress. It bodes well for the town and the people.
The large safe of the Tonganoxie State Bank that went through the fire, was opened Thursday evening without any trouble, and the contents found in as good condition as when put in.
The Christian Church building will be started as soon as the weather permits.