Taking the stage: Tonganoxie band SnakeDog to perform Friday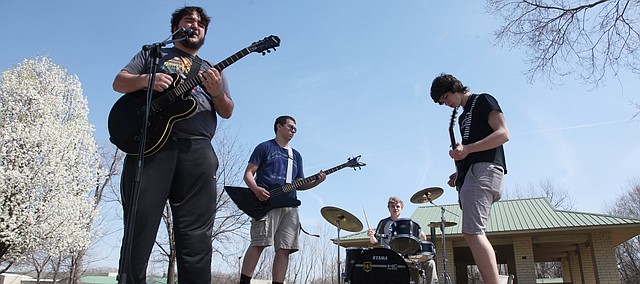 A local band with a unique name loves music. Members hope their sound makes others happy, too.
SnakeDog, a band of Tonganoxie High students Adrian Cullen, Sammy Sigourney, Grayson Gilbert and Gage Smith, will have its major public debut later this week with a 6:30 p.m. spring break show Friday at VFW Park.
The band formed last May and has played for friends and family at various venues, but Friday marks the band's first truly public performance.
This is the big gig the band has been working toward so far, Gilbert said.
Sigourney, Gilbert and Smith all are juniors, while Cullen is a sophomore at THS.
The band plays some covers, but performs original material, which is inspired by numerous genres.
"We're inspired by music from the 80s and 90s, but we're trying to develop our own sound," Cullen said.
Smith and Cullen both like alternative rock, while Gilbert jams to Metallica and other "thrash metal."
Sigourney, who is a tenor, likes "anyone who sings high." Styxx is one of the influences he threw out.
Classic rock hits are their musical tastebuds. And though country music isn't necessarily atop the band's list, Gilbert did mention liking some Goerge Jones.
The band likes a diverse range of music, as Cullen likes reggae and jazz.
Was it mentioned that various music inspires them?
"Pearl Jam, we finish with that," Smith said about the band's songlist.
Sigouney handles lead vocals and rhythm guitar, while Gilbert plays bass guitar.
Smith is lead guitarist and Cullen the band's drummer. Sigourney also sings in THS choirs, while Gilbert plays trombone in THS marching band and Smith is a drum major.
Bottom line: SnakeDog members like music — and each other.
"We're all friends and we like rock and roll," Sigourney said with a laugh.
Snake what?
Sometimes a band name says a great deal about a musical group.
That's not the case for SnakeDog, which kept trying to come up with names, but they all were already taken by European synthesizer pop groups.
At one point, they almost were going to call themselves European Synth Group or even the German equivalent of SnakeDog.
Eventually, SnakeDog stuck, though it has no relevance to anything. The boys just needed a band name.
Friend and fellow THS student Mason Beach made the logo and designed the shirts, which band members noted were available for $12.
More gigs ahead
If inclement weather postpones Friday's concert, the band will play the same time Saturday for a rainout date.
But Gilbert said there are other performances in the works, and SnakeDog welcomes additional opportunities to perform.
"We're looking to do any venue we can," Gilbert said. "We've got some things lined up in the summer. Our services are available."
Smith chimed in .
"We're just trying to get our name out there," he said. "Just having fun, having a good time, that's all we care about."
Band members agreed that they just want to make others feel good through their music.
And, Cullen said writing music allows the band members to express some thoughts through lyrics.
"I think we try to take advantage of that," Cullen said.
SnakeDog hopes Friday's free concert will provide enjoyment and inspiration.
"You want to play anything you can to make other people feel good, Gilbert said.
Sigourney was quick to welcome some paying gigs in the process.
"But money would help," Sigourney joked.