Genesis Christian Academy celebrates Pi Day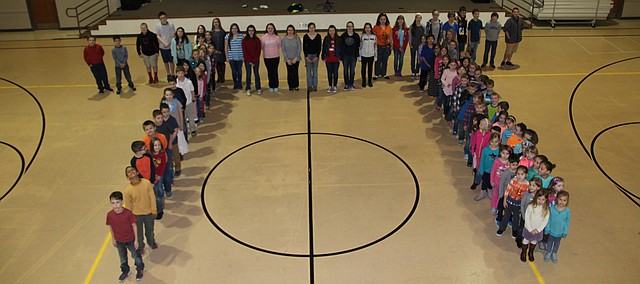 Genesis Christian Academy students celebrated math and satisfied some sweet teeth all in one day.
GCA students participated in Pi Day on March 14 by making the Pi mathematical symbol. The entire school came together to create the symbol in the school gymnasium.
Students in grades 6-8 participated in various Pi-related activities such as Pi Day cards, making a paper chain to represent the digits of pi, a card game, math games based on pi, pie in the face and of course, eating pie.
GCA grades 6-8 math teacher Stacy Crook-Collinge organized the event, which celebrates March 14 (3-14) as Pi Day. Pi is the number 3.14 They had a great time. Thanks to Mrs. Crook-Collinge, 6-8 grade math teacher for making it a fun "Pi Day!"
Pi, according to mathisfun.com, is the ratio of a circle's circumference to its diameter. It's equal to the number 3.14 in short, though the number goes on forever without repeating.
It's also the 16th letter of the Greek alphabet.