Remember When: A Community Review for March 22, 2017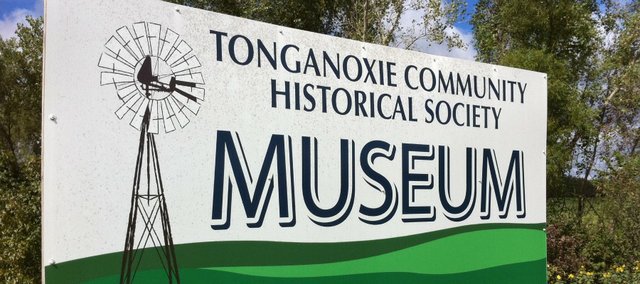 10 years ago: March 21, 2007
Seventeen college students from across the country and seven of their managers from College Pro Painters can be seen this week transforming the exterior of four Tonganoxie homes with a fresh coat of paint.
Brothers Ryan Bowen and Aaron Bowen, are planning a springtime move for their Gambino's pizza restaurant from Stone Creek to the former Mo's Pizza. The Bowens also own Gambino's in McLouth and Eudora.
Bichelmeyer's Steakhouse-The Bichelmeyer family has been in the meat business since the early 1940s, and known for their knowledge in the meat industry. Call for your catering needs or hand-cut steaks for your freezer or grill!
Warm up to Sunflower Broadband with Bronze internet! $14.95 a month-get broadband speeds at dial-up prices!
The public is invited to offer input on future development standards for the US 24-40 corridor from K-7 west through Basehor and Tonganoxie.
From the Remember When column, March 21, 2007, in the 75 years ago section, Feb. 11, 1932:
The dairy barn on the AL Knox farm, southwest of Tonganoxie city limits, was burned early this morning when a shower and thunderstorm came up and the barn was struck by lightning.
25 years ago: March 25, 1992
The Kansas Department of Transportation began survey work on Dec. 26, 1991, on U. S. 24-40 in Leavenworth County. Survey work should take approximately four months, putting the target date for finishing up around the end of April.
The work is part of a 10.4-mile project starting from Second Street in Tonganoxie east to the existing four-lane divided section, which is approximately 1,300 feet east of the Leavenworth-Wyandotte county line. Construction calls for a four-lane expressway.
Despite the absence of seniors from this year's Chieftain girls track team, coach Bill Shaw still expects big things from his team this spring.
The Sixth Annual Educational Excellence Banquet took place on March 17 to honor 57 Tonganoxie High School students.
The banquet took place in the Big Eight Room at the Kansas Union on the University of Kansas campus.
Section 2A is a reprint of an article from a 1915 issue of The Tonganoxie Mirror, "In the heart of a rich and productive section."
Included in the section are descriptions of several businesses active in 1915 Tonganoxie, including Zelner Mercantile Company, Anton Nirschl Billiard Parlors, Kellogg & Phillips Poultry and Eggs, and several others.
50 years ago:March 16, 1967
Six visiting students from Ecuador South America were guest of the State Department and First State bank in town to study rural co-operatives, electrification, irrigation, farming and economic development.
There was a mechanical breakdown at the Mirror office that didn't allow all the news and advertisements to be printed this week but has since been repaired.
The Jaycee's promoted the upcoming Easter Egg hunt on the Tonganoxie Fair Grounds on March 25, with more than 1,500 eggs and other prizes awarded.
The Carnival at the Grade School on March 16 included bumper cars, dunk tank, and all sorts of food and activities from 5 – 10 p.m.
KP&L announced the start of expansion plans for the Lawrence plant that would cost $37 million and bring the total capacity up from 430,000 to 680,000 kilowatts making it the largest of KP&L's power stations. 
75 years ago: March 19, 1942
Spring is just around the corner and the proof is with the red, red robins that have arrived.
Tonganoxie residents, like all other U.S. citizens are beginning to suffer the shortages of war in their personal lives.
No new cars are being sold unless you have a special permit.
Folks around the country are encouraged to plant a Victory Garden that can supplement our smaller meals.
Everything is changing in and around this territory. Japanese residents are being relocated to help Kansas farmers with their wheat production. Many are skeptical about this practice.
Perry Walters has donated his services without charge for the Red Cross war sale.  All proceeds will go to our Red Cross.
The Secretary of our Treasury has ordered that all silk fibers be removed from American paper currency and replaced with nylon.  
This effort will save money and eliminate the need for a Japanese product.
Many locals are interested in the steps to follow in case of an air raid.  
• As soon as bombs start dropping, run as fast as you can.
• Always get excited and holler "Bloody Murder". This will scare the kids!
• Eat lots of onions.  The odor will make you very unpopular in the shelter and give you more room.
• Don't go to pieces if you get hit by a bomb.
Thank you very much.These rules must be obeyed.
The Tonganoxie High School Pep Club presented a pageant at the game Friday evening. The pageant depicted the coming of the Indians and the coming of the whites to Tonganoxie. 
Soft music played while the girls, dressed in blankets and feathers, performed to a poem read by Mr. McCoy.
100 years ago: March 22, 1917
Ad – A few minutes spent in our millinery parlors will at once convince you that our prices are absolutely unmatchable for the qualities we show. Mrs. G. M. Peters.
A test well for the city is now going down on Charles Himpel's farm a mile east of the city limits, and about a quarter mile south of Fourth Street.
125 years ago: March 24, 1892
A bridge is being constructed across Sandy Creek near Hoge. JS Grist is doing the work.
George Bell, who lives several miles north of town has received some game chickens from Canada.
McLouth does not allow chickens to run at large in its corporate limits. Some of the people think it a fowl law.
• have made arrangements with Mr. Schoenau to take your cows to the pasture in the morning and deliver them in the evening.
• have good pasture with plenty of shade and running water, only a short distance from the Northwestern depot. I will pasture cows and deliver them of $1.25 per month.