Tonganoxie City Council revokes interlocal agreement following
AG

opinion; work session, liquor license approved; brush dump site discussed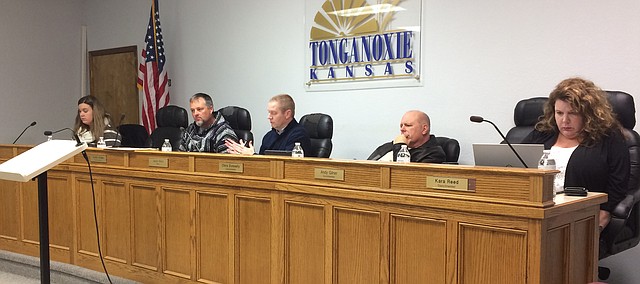 Tonganoxie plans to continue with improvements at its undeveloped business park, but it will have a new partner in an intelocal agreement.
The city had approved an interlocal agreement with the Leavenworth County Port Authority for development of the business park. The county also has pledged $5 million to the park.
But a recent opinion from Kansas Attorney General Derek Schmidt has left the city with taking a different route.
In a 5-page opinion, the Attorney General's Office basically had concerns of a private entity working as a conduit for funds and funneling them to the city, among other concerns.
At Monday's meeting, the City Council revoked its inter local agreement with the port authority and pledged support for a partnership with Leavenworth County. Council Members Jim Truesdell and Chris Donnelly were absent.
Commissioner Doug Smith was on hand at the meeting. The county continues to favor $5 million in development support, but there are some financing hoops that might need to be jumped through in coming weeks.
City Manager George Brajkovic said it was important to also acknowledge the port authority and Leavenworth County Development Corporation work in the business park process.
"First and foremost no one wanted to challenge the AG's opinion," Brajkovic said. "It's not in anyone's best interest.
"Being good team players, the port authority stepped aside."
He spoke additionally about the two organizations' work on the matter.
"We don't want to be dismissive of all the work they did to get to where we are today."
Work session scheduled
The council set a work session for 7 p.m. April 12 to discuss what projects should take priority with regards to the recently passed 3/4-cent sales tax replacement.
Liquor license approved for Tonganoxie Days
The council approved a special permit liquor license so that the city can sell beer at Tonganoxie Days in a specified area, including Gallagher Park and some nearby areas.
Kay Soetaert asked about extending the special license nearly a week because Bike Across Kansas would be making one of its final stops June 16. Some participants will be staying at the high school. It would be an opportunity for visitors to come to the downtown area, Soetaert said.
City staff was going to look into the license options further.
Brush site discussed
Margie Gilner asked the City Council about the possibilities of a site for dumping tree branches, leaves and the like. While the council was in executive session, Gilner had been chatting with others in the audience about the possibilities of such a service.
Fire Chief Jack Holcom offered to help research what other cities do, such as Eudora, which has a brush dump site.
Gilner's husband, Andy, is a council member.