Tonganoxie Elementary School releases third-quarter honor rolls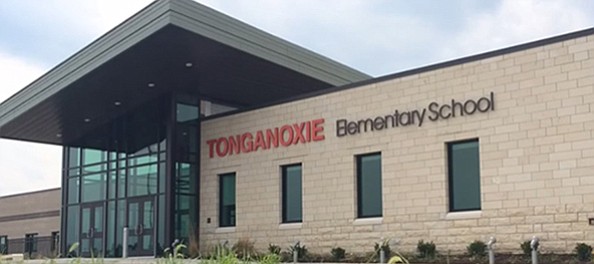 Tonganoxie Elementary School recently announced its fourth- and fifth-grade honor rolls for the third quarter. Here are those lists:
Fifth grade
Principal's Honor Roll
Kasia Baldock, Lachlan Bond, Trinity Bridges, Daisy Brown, Colton Brusven, Abby Clarkson, Alex Crowley, Mallory Dick, Isabella Estes, Graham Foley, Cody Fraedrich, Haley Halterman, Wyatt Hammer, Cole Holmgren, Taylor Igleheart, Jessica Kesinger, Luke Kesinger, McKenna Klamm, Angelina Knipp, Jackson McWilliams, Bailey Poje, Lilly Pruitt, Lucy Rieke, Alaina Rogers, Sydney Shepherd, Emory Sittner, Logan Spencer, Tyler Stanwix, Connor Stean, Aiden Van Middlesworth, Conner Vestal, Zannidy Wright, Lyric Yost and Madie Ziolo.
A and B Honor Roll
Teagan Allen, Cale Andersen, Lily Barnett, Jordan Bauswell, Dalton Bennett, Michael Bottary, Brendan Bowlin, Marissa Bowlin, Amiya Bremer, Lilly Breuer, Brendan Briley, Marissa Caray, Jace Comba, Journey Creten, Molly Cullen, Gabrielle Diaz, Keely Dohle, Brookelynn Dunn, Shawn Elmer, Elzy Folsom, Audrey Glynn, Brayden Harber, Thomas Harbour, Presley Herrig, Kinnley Hoffhines, Kyle Hoffman, Isaiah Holthaus, Cayden Hunter, Allie Innis, Sage Isaacs, Caroline Keene, Jacoby Keller, Addisyn Kelly, Paige Kelly, John Knipp, Trenton Kraus,, Foster Laessig, Breeonna Lang, Owen Leffert, Allie Lowe, Macey Lynne, Maddie Mahoney, Shanterrio McDonald, Trevor McGraw, Grant Mollett, Caydence Moretine, Madison Motichka, Lewis Mya, Tessa New, Alyssa Novotney, Van Payton, Dylan Perman, Molly Rausch, Kade Riedel, Stefany Rodriguez, Gavin Shupe, Keziah Slinkard, Makayla Smith, Reilly Smith, Mariah Sneed, Roman Staples, Charlie Thompson, Courtney Van Anne, Constantina Vasquez, Jordyn Vorbeck, Colton Watson, Jackson Wensel, Olivia Wilson and Alexis Zamora-Guerra.
Fourth Grade
Principal's Honor Roll
Tyler Baldwin, Cole Banister, Eric Bieser, Addison Booker, Brooke Bowlin, Eliza Brockhoff, Violet Call, Noah Carlton, Lilia Chelbi, April Crable, Cael Dye, Elena Edholm, Samantha Edmonds, Samuel Farrow, Sawyer Frese, Alexander Frevele, Jett Gilmore, Raleigh Grabill, Lucy Graveman, Brenden Griffin, Jase Gumbel, Tanner Hand, Hannah Hartley, Cavin Hendrickson, Anna Heskett, Baylie Igleheart, Alexis Johnson, Karalynn Johnson, Wesley Johnson, Alexis Jones, Cole Kessler, Silas Kirchoff, Abbie Lauderdale, Anthony Le, Levi Lindholm, Harlee Morando, Nathan Motichka, Macie Murray, Aubrey Padfield, Grace Patterson, Rylie Penner, Maya Romero, Owen Schmidt, James Scott, Hannah Seymour, Kendall Smart, Jacob Smith, Kendall Smith, Grace Stean, Kennedy Temple, Jocie Thomas, Kennedy Unruh, Grae Vanderweide, Josiah Weatherford and Emery Weiser.
A & B Honor Roll
Huston Albert, Jace Banister, Makinsey Bell, Josy Blake, Stella Bradley, Taylor Brents, Ethan Butler, Jayson Byrne, Charlsie Christner, Mackenzie Colgrove, Emmett Crookham, Lexi Douglas, Marina Duran-Diaz, Piercen Eccles, Anthony Edmiston, Brooke Eis, Analisa Estes, Gentry Fagan, Isabel Ferguson, Zachary Fisher, Josiah Fountaine, Kaidyn Franklin, Alejandro Gardea-Torres, Mark Geiger, Brock Gibbs, Madison Harris, David Hickey, Brooke Hurley, Daniel Ignatichev, Jase Kelly, Kaylee Knipp, Khrisalyn Labasan, Talon Langford, Gracey Laver-Foster, Trenton Leeper, Landon Lyman, Carson Maggart, Joseph Malec, Taylor Miller, Isabelle Nickel, Reid Oakley, Max Perry, Brayden Prebble, Jacob Putthoff, Lydia Rafols, Cassidy Reiner, Gavin Reischman, Alejandro Reyes, Harper Robbins, Isaac Schelert, Mason Schooler, Alexander Siguenza, Jaxon Smith, Makenzey Smith, Jaylynn Sparks, Gavin Splichal, Alex Stevens, Wade Vaughn, Trenton Warren, Payton Waters, Jocelyn Wenger and Mesa Wright.