Tonganoxie High standout Cook to run cross country, track at Baker University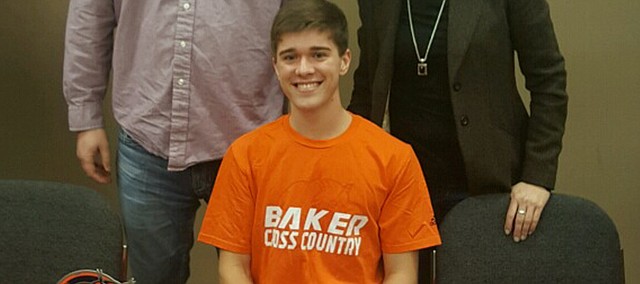 Drew Cook wasn't certain where he was going to land next when he headed to Baldwin City for a campus visit at Baker University.
By the end of the day, he had found his new home.
Cook, a Tonganoxie High School senior, signed last month to run cross country and track next year at BU.
"I really liked my visit," Cook said.
The cross county standout said that once he had lunch with coaches and current Baker team members, he started to realize the NAIA school was for him. A positive experience chatting with an instructor also reinforced his decision.
Cook had looked at some other small schools and also was considering running at Kansas, but he eventually opted for 20 miles south with the BU Wildcats instead of the Jayhawks.
A former Basehor-Linwood runner also helped Cook make his decision.
John Fulkerson, who was a senior at BLHS when Cook was a freshman at THS, went to Baker after his high school career and was encouraging Cook to check out BU's offerings.
"He was basically the reason I was looking at Baker," Cook said. "He was kind of my main driving force to go."
The Chieftain runner advanced to state as a sophomore and a senior.
His final campaign was his best.
This past fall, he was named the Lawrence Journal-World's runner of the year for the cross country season. Cook won a Kaw Valley League this past fall and followed it up with a third-place finish in regional competition and 10th at the Class 4A state meet. He also was a medalist at the Rim Rock Classic.
THS coach John Tollefson said he was eager to see Cook continue his career.
"Drew had a very successful four years in cross country and (three years so far) in track at THS," Tollefson said. "I am excited to follow his running at Baker."
Cook competed in cross country for four years and was on the basketball team as a freshman. He's in his fourth and final season of track now.
Cook generally bounces among the 800, one mile and two mile. He hopes to add a state appearance in track to his accomplishments in cross country.
"I'm looking to go this year," Cook said.
Once he gets to the Baker campus, Cook plans to major in exercise science and kinesiology.
"It was a good experience and the school size was right for me," Cook said. "I just really liked it.