Tonganoxie school board rescinds contract extension for superintendent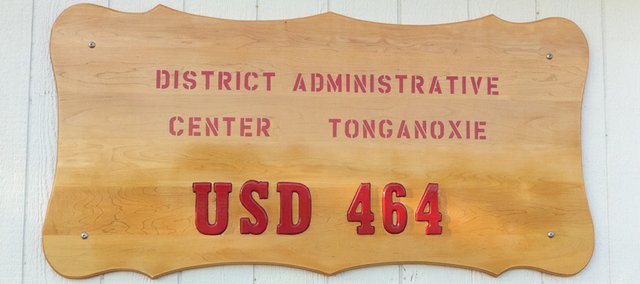 The Tonganoxie School Board has rescinded a one-year extension to its superintendent's contract as the school district's top administrator awaits a jury trial for alleged failure to report abuse at a former school.
Chris Kleidosty came to Tonganoxie nearly a year ago, agreeing to a two-year contract as superintendent.
In February, he was arrested for alleged failure to report abuse in the Prairie View school district where he was superintendent before coming to Tonganoxie.
Prairie View High School Principal Tim Weis also was arrested. Both face two counts failure to to report.
Both are to appear later this month in Linn County District Court.
Kleidosty, who has given a not guilty plea, will appear before a jury. His lawyer asked for a bench jury at his last appearance this past Wednesday, but Linn County Attorney James Brun requested a jury trial for the misdemeanor charges.
Keaton Krell, a PVHS teacher and coach, resigned earlier last May from his positions in the district. He was arrested the last day of school, the same day Tonganoxie board members hired him as their next superintendent. Krell faces 20 felony counts — two cases with 10 counts each — of unlawful relations with a student 16 or older.
Kleidosty had been cooperating with the Linn County Sheriff's Office to investigate the matter and had informed the Tonganoxie school board of the development, according to Dan Hopkins, Tonganoxie school board vice president. At the time of his hiring in Tonganoxie, Kleidosty was not under investigation and was overseeing Prairie View's cooperation with law enforcement in the sex abuse case, Hopkins noted.
The Tonganoxie board voted, 6-0, to rescind Kleidosty's contract extension, with board member Kaija Baldock absent. The decision came after 40 minutes of executive session that also included interim Supt. Tonya Phillips and Donna Whiteman, counsel from the Kansas Association of School Boards.
According to online minutes from the Prairie View school district's April board meeting, PVHS assistant principal and activities director Lucas Matile was hired for Weis' principal position for the 2017-18 school year. Weis was suspended with pay after the arrest.
Kleidosty also was suspended with pay. That hasn't changed despite Monday's Tonganoxie board decision.
Kleidosty, who was superintendent for nine years at Prairie View, currently receives an annual salary of $132,000 in Tonganoxie.
His trial date has not been set, but Kleidosty's next appearance is 3:15 p.m. May 23 in Linn County.