Southern Leavenworth County Leadership Development celebrates Class of 2017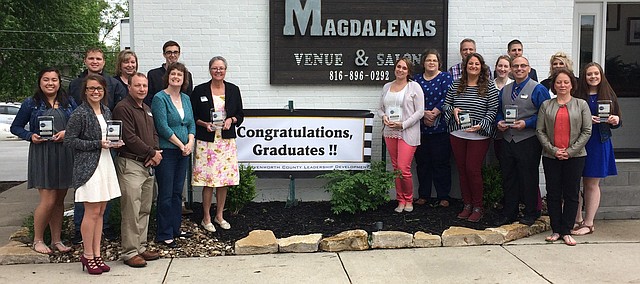 Area residents ranging from high school seniors to retired citizens gathered last week in Tonganoxie to celebrate their graduation from Southern Leavenworth County Leadership Development.
SLCLD graduated 21 Wednesday, May 3, during a luncheon at Magdalenas Venue.
Former state legislator and Kansas Board of Regents member Kenny Wilk was keynote speaker.
SLCLD board chair Shawn Linenberger presented outgoing board member and current Basehor City Council Member Jennifer Bizzell with a plaque of appreciation for her many years on the board.
Class member Tim Anderson, executive director for United Way of Leavenworth County, spoke during the event. Classmates named Anderson as this year's Outstanding Leader.
This year's class was split up into four teams, with each group creating a separate community project.
The four groups volunteered efforts into specific causes: one group helped with operations for Chieftain Cafe, the Tonganoxie Public Library's after-school program, while another worked with public safety officials to qualify Leavenworth County for public safety support. The two other groups held a cleanup day at Leavenworth County State Fishing Lake and installed a sign, a display case for more expensive items and several other improvements at Good Shepherd Thrift Store and Food Bank.
Team Lake Ants, the state lake cleanup group, was named top project based on a scoring system that included, organization, teamwork and leadership competencies.
County public safety officials presented the SAFE team with a plaque of appreciation before graduation awards were handed out.
Members of the 28th SLCLD graduating class are Anderson, Dustin Barker (winning project team), Teresa Bastron (winning team), Patrick Burcher, Glenda Briscoe, Dawn Carver, Ken Freemyer, Kalie Hileman (winning team), Nicole Holifield, Rachel Long, Howie Lucas, Michael McEvoy (winning team), Dakota Nehl, Savanah Reynolds, Alexis Shanks, Lea Ann Shearer, Steve Skeet, Britney Smith, Linda Suttlehan (winning team), Gabi Westrich (winning team) and Heather Woodyard. Chris Jennings and Jerry Fenske received certificates of participation.