Tonganoxie High sweeps Paola in softball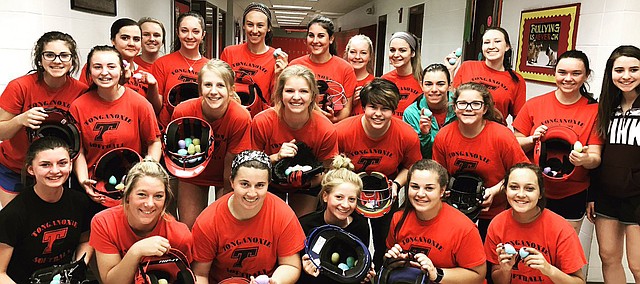 Doubleheaders against future Frontier League foes Spring Hill and Paola provided an interesting outcome among the three teams.
Paola swept Tonganoxie on Thursday, 12-2 and 14-7 in Tonganoxie. The next day, the Chieftains had to face Spring Hill, a team that had swept PHS earlier in the week.
On Friday, though, THS bounced back by handling Spring Hill, 5-2 in extra and then 9-1.
The victories halted a four-game losing streak and moved THS to 12-6 with just two more games left before regionals.
Against Spring Hill, the teams were tied, 1-1, at the end of seven innings. THS tied the game in the top of the sixth when Mackenzie Sample knocked in Brenn Shryock with a double after Shryock connected on a double in the previous at-bat. The teams were still tied in the ninth when the Chieftains broke the game open.
Delainey Fenoglio got the inning started with a double. She moved to third on a wild pitch and then scored on Lauren Gray's single to left.
Torrissa Hootman followed with a single and two batters later Taylor Lee homered to push the lead to 5-1. The Broncos did get a run back, but couldn't assemble the larger rally it needed.
Fenoglio pitched all nine innings, limiting SHHS to two runs 12 hits. She struck out nine.
In Game 2, Fenoglio led with her bat, connecting on four hits in five at-bats as THS won handily, 9-1.
THS led, 1-0, thanks to a Gallagher homer in the second. In the third, THS assembled a big five-run inning that essentially put the game out of reach.
Tonganoxie played small ball that inning, getting singles from Shryock, Sample, Fenoglio and Gallagher. Shryock even stole home for her score.
Fenoglio, Gallagher and Hootman each had four RBI. Gallagher pitched all seven innings and gave up 10 hits, but just one run.
Now 12-6 overall and 8-4 in Kaw Valley League play, THS finished the regular season Tuesday after The Mirror's print deadline against another future Frontier League foe in Baldwin.
BHS derailed Tonganoxie's state hopes two years ago at Baldwin, but this year THS gets another home regional.
Basehor-Linwood, Piper and Atchison all will join THS next Tuesday at the Leavenworth County Fairgrounds. THS split with Piper earlier in the season and went 0-2 against BLHS last week. The Bobcats accounted for the first doubleheader loss of the season and started a four-game skid. Tonganoxie and Atchison did not play in the regular season.
THS coach Stephanie Wittman said the BLHS sweep was tough to take, but that the team had "so much motivation now."
THS is expected to be the No. 2 or No. 3 seed at regionals. Piper is the No. 1 seed and Atchison the No. 4 seed. BLHS and THS both were 12-6 entering each team's final doubleheader of the regular season. Tonganoxie must win its doubleheader while BLHS must split or is swept to get the No. 2 seed. THS also can split if Basehor-Linwood is swept. BLHS owns the tiebreaker with sweeping the head-to-head meeting. It's basically a battle for last at-bat in the opening round between the two teams.
Linescores
BLHS 6, THS 2
THS 100 010 0 — 2 8 3
BLHS 300 030 x — 6 4 0
BLHS 6, THS 1
THS 100 000 0 — 1 4 1
BLHS 030 003 x — 6 15 0
Paola 12, THS 2
PHS 111 230 4 — 12 22 0
THS 000 010 1 — 2 12 0
Paola 14, THS 7
PHS 073 001 3 — 14 21 1
THS 301 300 0 — 7 11 1
THS 5, SHHS 2
THS 000 001 004 — 5 9 0
SHHS 001 000 001 — 2 12 0
THS 9, SHHS 1
THS 015 101 1 — 9 18 0
SHHS 000 100 0 — 1 10 0