Tonganoxie
USD

464 bond reissuance to save nearly $1.14 million; candidate filing deadline June 1; more hires, resignations, new positions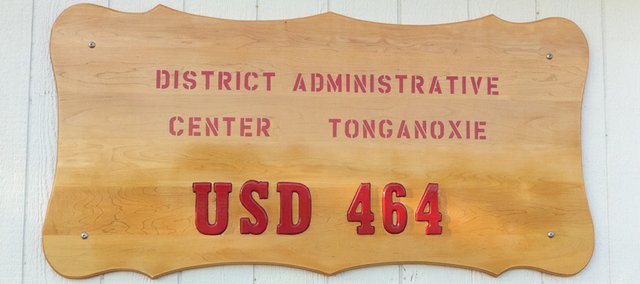 Editor's note: The print version and an earlier online version of this story incorrectly stated that AW "Rocky" Himpel had filed to run for a Tonganoxie USD 464 School Board position. However, Himpel is running for City Council. The story has been updated to reflect this correction.
Tonganoxie school board members approved refinancing of bonds that will save the district on average about $126,000 annually over the next decade, though those larger savings won't start for a couple years.
The board approved the measure, 6-0, Monday, with Board Member Amelia Brusven absent.
Roger Edgar with George K. Baum consulting firm told the board the move reduces the interest rate from 4.1 percent to 2.54 percent. It also provides a total savings of nearly $1.14 million over the life of the bonds, which ends in 2028. Edgar also said the district's bond rating of A1 was reaffirmed.
Candidate deadline is June 1
Filing deadline for Tonganoxie USD 464 and Tonganoxie City Council positions are June 1 at the Leavenworth County Courthouse.
Current board members whose terms are expiring are Kris Grinter, board vice president Dan Hopkins and Phillip Welsh. Welsh recently was appointed to finish out Kay Smith's term after Smith resigned from her post late last year.
Tonganoxie City Council members whose terms expire this year are Chris Donnelly, Andy Gilner and Jim Truesdell.
School board candidates must live in specified districts. Only one position is open to all residents, the at-large position, which Bryan Kemp currently occupies.
Filings should be made with County Clerk Janet Klasinski. According to her office, only one person has filed so far, AW "Rocky" Himpel for Tonganoxie City Council.
Work Agreements
(All are for 2017-18)
Elizabeth Martin, THS counselor (replacing Kelly Fredley); Jon Orndorff, THS boys soccer head coach (replacing Brian Kroll); Brady Field, THS Student Council sponsor (replacing Tara George); Matthew Christensen, THS Student Council sponsor (replacing Jodie Smith); Mary Bartels, THS cheerleading head coach (replacing Stacy Willis); Meagan Vestal, TMS library clerk; Brandon Mellen, THS .5 athletics-activities Director/.5 assistant principal; and Alisha Tenbrink, THS language arts teacher.
Resignations
(Effective end of 2016-17 school year)
Christine Biel, THS science teacher; Mark Richards,THS industrial arts teacher; Kyla Sandhoefner, second-grade teacher; Jessica McRae, THS language arts; Stacy Willis, TMS math teacher; Cathy Cox, THS freshman class sponsor; Nicole Negley, TES special education teacher; Meagan Vestal, human resources clerk; Spencer Dale, third-grade teacher; and Mary Bartels, TMS cheerleading head coach.
­
New positions
Student nutrition office assistant; increase TES administration by 0.5 FTE, making TES 1 FTE principal, 2 FTE assistant principals (changing from current 1 FTE principal, 1.5 assistant principals); increase TMS administration by 0.5 FTE, making TMS 1 FTE principal, 1 FTE assistant principal (changing from current 1 FTE principal, 0.5 FTE assistant principal); and changing 1.0 FTE classified technology staff to 1.0 FTE certified technology integration specialist (teacher contract).