Remember When: A Community Review for May 10, 2017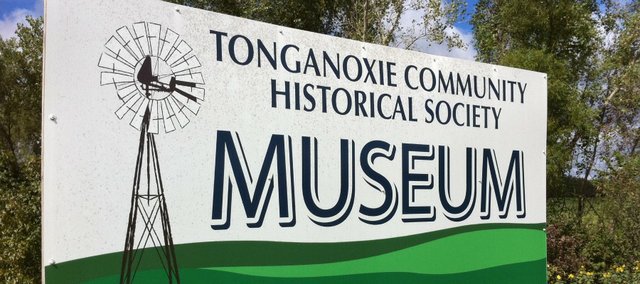 10 years ago: May 9, 2007
Local residents will meet in VFW Park on Sunday for a "Stand in for Peace" event.
This is not a political gathering. The inspiration came from Sharon Mehdi's children's book, "The Great Silent Grandmother Gathering." Susy Ross and Helene Miller are organizing the event, which also has some historical background. In 1870, Julia Ward Howe, author of "The Battle Hymn of the Republic," proposed to hold an annual Mother's Day for Peace, to "promote the alliance of the different nationalities, the amicable settlement of international questions, and the great and general interests of peace.
Essays by sixth-graders give tribute to their mothers. Keaton Truesdell is pictured with his mom, Diane Truesdell.
Stranger Creek is flooding. Easton resident, Frank Wooten, says, "I think I've seen it this bad once or twice, but never worse."

25 years ago: May 6, 1992
The morning of May 1 saw all the Tonganoxie second-grade classes touring Fred and Martha Leimkuhler's 120-acre farm they lovingly call "Quaker View." The Leimkuhlers opened up their farm some 10 years ago for use as classroom tours to help teach children about the earth and nature, and all those who have come and gone before on the land.
The Leimkuhlers began bringing children out to walk their nature trail, but it seemed the children didn't really notice the natural beauty and wildlife all around them just by walking on a trail. So they decided to teach about nature and wildlife by giving the children something to look at, to touch and to listen for, as the hands on involvement teaches them more than just reading about it in a book.
It's birthday time for Helen Schilling and she tells us it is also party time. At the age of 82 she surely has something to celebrate about. She writes a column for the Mirror every week, drives her car to places too far to walk to, and is a friend of most people in the community.
50 years ago: May 4, 1967
The City Council's agenda included discussions on a curfew, seeking input from the public.
Music director Joe Weisgand announced District 464's Second Annual Summer Music Program for 5th and 6th graders. Weigand identified one of the biggest needs was for sousaphone players.
The Perry Reservoir scheduled opening in 1969 also requires the highway relocation of US 24 in Perry and K 92 in Ozawkie, that are underway.
A Leavenworth Country Club membership was $100 to join and $27 per month, subject to board approval.
The Tonganoxie Community Rose Garden received recognition by Inter-State Nurseries, who donated 100 tea and floribunda roses.
75 years ago: May 10, 1942
An impressive turnout for the annual Alumni Dinner happened this weekend with 200 former students and teachers enjoying each other's company. A decision was made to hold this event on the second Friday in May in hopes that the tradition will continue long into the future.
Even with strawberry season upon us, we can only make do with a cup of sugar per week. These ration restrictions are really cutting into the dessert course at our dinners.
Kansas is one of only three areas with helium production needed for our military. Legal beer is now helping out with 10,000 new jobs and $11 million in taxes. Those dollars support our social programs and school aid. Salt is produced in Kansas and is helping with the war effort in a big way.
Good business management is helping our electric company work 24 hours a day and seven days a week. The US government wants all industries to put in the extra hours until this war is won. We, here at Kansas Electric Power, are doing all we can.
100 years ago: May 10, 1917
We are at war with a great power. We are preparing an army and training a navy to combat that power. But the work of preparation and defense is not to the army and navy alone. Our people cannot all be fighters. We must have, in addition to our armies of fighters, armies of producers, to sustain those who struggle and to maintain those for whom they struggle. Men in close touch with the food supply of this country predict that if the present decrease in production keeps up for another year, we will face a serious food famine.

A canning school for all ages will open in the public school building the latter part of the month, or as soon thereafter as arrangements can be made to start it. Preliminary steps to this end were taken at a meeting of the Farmers & Merchants Community Club, held in the City Hall Monday evening.
All ladies should be interested during this time of war, in the conservation of food. If you desire to learn the art of canning fruits and vegetables and wish to enroll in a canning class, you and your friends are urged to attend a mass meeting of ladies at The Royal, Saturday afternoon at 1:30, at which Mrs. E.L. Marshail, vice president of the Glenwood Canning Club will be present.
A farewell party was given at the home of Samuel Babcock on Tuesday evening, May 1, before they moved to their future home in Leavenworth. Cans were also rattled to the newly married couple. The evening was spent with games and music. Herbert Moore sang a tenor solo and Walter Wickey wore a dreamy smile during the evening. The bride lost her groom and Joe Wickey lost his Ford, but both were recovered later.
125 years ago: May 5, 1892
A curious accident befell the pile driver at work on the Kaw River bridge near Fall Leaf last week. A derrick forty feet high was erected on a flat boat, to raise a 1750 pound pile driver. The engine to raise the driver was placed on the other end of the flat boat. When the heavy weight was raised, the derrick lost its balance, and toppled into the river with the engine. It was several days work to resurrect the articles.
An editorial or letter to the editor was included about a certain feeble-minded party in town who has managed to scrape together a font or two of type and some kind of a cheese press on which he goes through the motion of printing a newspaper, is mad and gives the city council a lecture.
He says the way the council let the printing contract was contrary to law. He asserted that letting the work to the lowest bidder is not consistent, because the city clerk and treasurer did not submit bids for their appointments.
The editorial concludes that the certain party who did not get the recent printing contract had produced work that was very difficult to read and had been guilty of overcharging. Expecting that the city clerk and treasurer would be let for bid was contrary to city law.