Tonganoxie's Johnson breaks record again, now in Top 25 in nation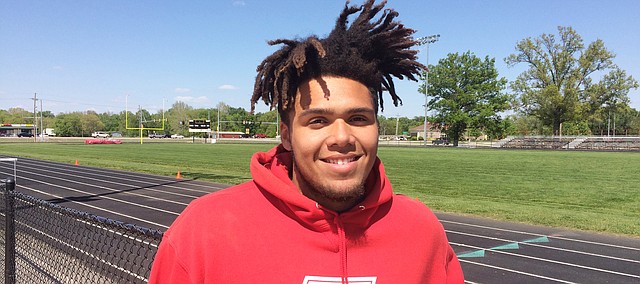 LeeRoi Johnson continues to amend the record books this season.
The THS junior broke his own school record in the discus by some 15 feet Wednesday, May 3, at Piper. He broke his own record with a throw of 191 feet, 4 inches, which currently puts him in the top 25 in the country among high school throwers. His throw was 40 feet ahead of Ottawa senior Brock Reed's throw of 151-4 for second place. Tonganoxie junior Kyle Snyder took third with a 145-6 throw.
In the shot put, Johnson placed third with a 50-1 throw. Snyder wasn't far behind in sixth with a 46-4 throw, while fellow THS junior Sammy Sigourney took eighth with a 40-10.5 throw.
Matt Johnson added points in another throwing event. The senior threw 139-1 in the javelin.
Junior Dalton Bock placed fourth in the 100 with an 11.9-second finish. THS freshman Elijah Tyner placed eighth in the 200 (24.86) and senior Michael Mast seventh in the 400 (56.03).
Tonganoxie dominated the 800. Senior Drew Cook took second (2:05.01), fellow senior Carter Kietzmann fifth (2:11.23) and freshman Jakob Edholm seventh (2:14.2).
Sophomore Calvin Morgan finished eighth in the 3,200 (11:02.65) and the Tonganoxie 4x100 relay team a bronze (45.25). The 4x400 team took fifth (3:41.1) and the 4x800 team second (8:45.52).
Junior Eric Neas earned bronze in the high jump (5-10), while fellow junior Lucas McCoy nabbed eighth (5-6). In the pole vault, Logan Beach finished fourth (9-6) and sophomore Wyatt Martin sixth (8-6).
McCoy also took silver in the long jump (19-1). THS jumpers teamed up for a strong showing the triple jump as Neas took third (39-10.5), McCoy fourth (39-3.5) and junior Zac Morgan eighth (37-8.75).

Piper won the boys meet with 156 points. St. Thomas Aquinas took second (100) and THS third (86) and Ottawa fourth (79). The rest of the field was Blue Valley Southwest (59), Basehor-Linwood (39), Pembroke Hill (16), Lansing (11) and Ward (8).
Girls team takes 4th
THS sophomore Corinn Searcy got things started for the girls team with a bronze in the 200 (27.81).
Junior Sierra Staatz won the 400 (1:02.5), while fellow junior Mia Bond won the 800 (2:29.9). Another junior, Alyssa Scott, took sixth in the 3,200 (13:34.7). Shailea Freemyer took fourth in the 300 hurdles. The junior had a time of 53.39.
THS won the 4x400 (4:17.08) and was second in the 4x800 (10:26.47). Merkaia Khantaboury tied for third in the high jump, as the freshman cleared 4-8. Freemyer took sixth with the same height.
Staatz won the triple jump (32-9.5), while Khantaboury was seventh (28-6) and sophomore Trinity Touchton eighth (27-10). Keagan Newberry took fifth in the shot put (30-5.5) and fourth in the discus (90-8).
In the girls division, Piper won with 119, while St. Teresa scored 83. Basehor-Linwood was just behind in third with 81. Tonganoxie finished fourth with 71 points, Aquinas (49), Pembroke Hill (43), BVSW (34), Lansing (31), Ottawa (14) and Ward 10th (5).
Tonganoxie next competes at 3:30 p.m. Wednesday in Lansing at the Kaw Valley League meet.
The Chieftains then compete May 19 in a 4A regional at Baldwin.