Former Tonganoxie superintendent resigns from same post in Lawrence, plans to take other position in that district, pending board approval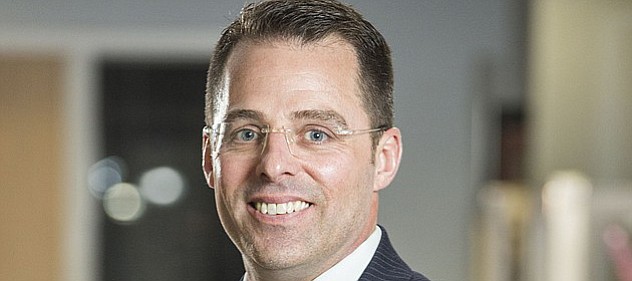 Kyle Hayden is resigning as the superintendent of Lawrence Public Schools, the district has announced.
He plans to stay with the district in the newly created role of chief operations officer, pending approval by the Lawrence school board.
The school board has scheduled a special meeting for 5:30 p.m. Wednesday to discuss appointing an interim superintendent and the process for hiring a new superintendent. The board expects the position to be filled by February 2018, according to a statement from the board.
Hayden's resignation will be effective July 1, according to the district statement. He was appointed as the district's superintendent in March 2016 and has served in that role since July 2016. He was hired at a salary of $205,000. It's not clear what his salary as COO would be.
In the release, Hayden said the decision to leave the superintendent's position was family-based.
"This move is best for me, my wife, Katy, and our three children," Hayden said. "I am appreciative of the staff and community support I received while serving as superintendent and am especially thankful for my leadership team, which has worked with me to move the district forward."
In the release, board president Marcel Harmon said Hayden had the support of the board to remain as superintendent.
"The district and community have benefited greatly from Kyle's seven years of leadership as an assistant principal, assistant superintendent, and as superintendent," Harmon said. "It's important that the community understand that Kyle had the board's support to continue as superintendent, and that he has our full support in this move."
In the role of chief operations officer, Hayden would manage all aspects of the $87 million school bond construction projects, which voters overwhelmingly approved earlier this month. According to the release, Hayden will work with building staff and parent design teams and district design and construction teams to implement the bond projects. Before he became superintendent, Hayden served a similar role for the district as part of the 2013 bond issue.
In addition to management of the bond issue, Hayden will oversee the facilities and operations department, capital improvements planning, planning related to enrollment projections, building capacities, school boundaries and other issues.
Before being hired as superintendent last year to replace Rick Doll, he had served five years as an assistant superintendent of business and operations for the Lawrence school district.
He also had served as an assistant principal at Lawrence High in 2004-05.
Hayden came to Tonganoxie from Ellis, which is 15 miles west of Hays, in 2008. A year later, he was hired as superintendent when he replaced Richard Erickson, who had been superintendent since 1996. Erickson's contract was not renewed, but Erickson was moved to the newly created part-time position of special projects manager for a year before retiring.
Before working as an assistant principal at Lawrence High, He served principal in Valley Heights from 2002-04. Valley Heights is comprised of the communities of Waterville and Blue Rapids in Marshall County, roughly 40 minutes north of Manhattan. He also was an assistant principal in Granbury, Texas (2000-02), and a social studies teacher and coach in Blue Valley (1998-2000) and Cheney(1995-98).
Hayden is a 1990 Sabetha High School graduate who earned his bachelor's degree from Tabor College, his master's from Emporia State University and his district leadership license from Fort Hays State University.
During his short tenure as Lawrence superintendent, the largest project undertaken by the district was the recently approved $87 million bond issue, which is intended to revamp Lawrence High School, plus make improvements to Free State High School and the district's four middle schools. The bond issue won approval on May 2 with about 75 percent of the vote.
The district, however, has had some tumultuous moments during the last year. The school board and administration received large amounts of public criticism for how they handled a controversial resignation of a teacher at South Middle School. The teacher had been accused of making racist comments to his class. The board accepted the teacher's resignation but sought to conceal the identity of the teacher and also sought to keep private that the district had entered into a settlement agreement with the teacher.
The district also has faced criticism that it has not done enough to promote equity in the school district.
The district news release listed several accomplishments during Hayden's tenure. They included:
• Expanded the concept of personalized learning in the district.
• Addressed technology issue for students with an iPad program at middle schools and a MacBook program at high schools.
• Completed a transition plan for a new Facilities and Operation Department and warehouse facility.
• Provided Beyond Diversity training to an additional 313 staff members, including all new teachers, and designed a plan to provide professional learning on culturally relevant teaching.
"I feel fortunate to have been able to contribute to significant facility improvements for all of the elementary schools and to have played a leadership role in gaining the community's investment in a plan to upgrade all of the secondary schools," Hayden said in the release.
Board members thanked Hayden for his service to the district.
"As a first‐time board president this year, I've benefited from his counsel and steady leadership," Harmon said. "I'm grateful that our community will continue to benefit from his experience with facilities, bond implementation and planning, his leadership skills, and his passion for equitable education."
The release said the board at its special meeting on Wednesday will meet with a representative of the Kansas Association of School Boards for guidance on the process of appointing an interim superintendent this summer. The release said the board will begin the superintendent search in the fall, and plans to name the next superintendent no later than February 2018.