Postseason begins today for some Tonganoxie High teams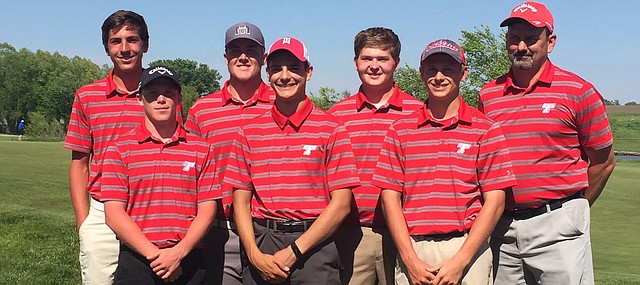 The postseason starts today for some Tonganoxie High teams.
Tonganoxie golf opened its Class 4A regional at 8:30 a.m. in Atchison against Atchison, Baldwin, Basehor-Linwood, Bishop Miege, Bonner Springs, Jeff West, Ottawa, Piper and Spring Hill at Village Greens Golf Course in Ozawkie.
THS baseball (3-15) is the No. 4 seed in its Class 4A Division I regional today. The Chieftains take on No. 1 Atchision (14-2) at 4 p.m. in Atchison.
A Tonganoxie victory would put the Chieftains in the regional finals against No. 2 Piper (8-11) or No. 3 Basehor-Linwood (8-11) at 6 p.m.
THS softball (14-6), the No. 2 seed in its 4A D-! regional, plays at 4:30 p.m. Tuesday at the Leavenworth County Fairgrounds against No. 3 Basehor-Linwood (13-7). No. 1 Piper (17-1) plays No. 4 Atchison (5-13) in the other quarterfinal game. Winners play at 6 p.m. THS handed Piper its only regular season defeat and was 0-2 against BLHS. Tonganoxie and Atchison did not meet this year.
Tonganoxie soccer is the No. 12 seed in the Class 4-1A Northeast regional. THS (6-8-1) plays No. 5 Baldwin (8-6-1) at 5 pm. Tuesday in Baldwin. The winner plays No. 4 Piper (9-6) or No. 13 Bishop Seabury (4-6-1) at 5:30 p.m. Thursday.
THS track has its 4A regional Friday at Baldwin. The meet starts at 3 p.m. in Baldwin.