Chamber dissolves, merges with Tonganoxie Business Association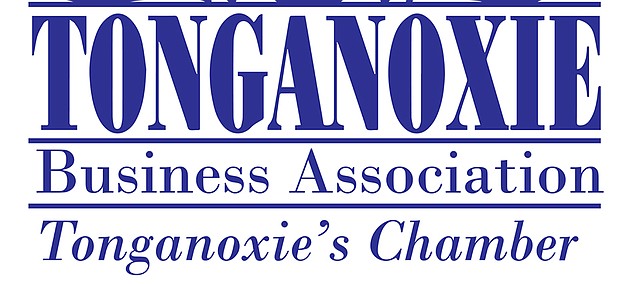 Tonganoxie Business Association and Tonganoxie Chamber of Commerce have officially merged.
Monica Gee, president of TBA, announced Monday during an informational meeting that the two entities had agreed to the consolidation.
"We are now fully together," she said. "One entity. One board. One everything."
The two groups decided to merge because in many ways the two organizations were working to accomplish related results for the community.
"We had two groups with similar goals," Gee said. "Both were asking the city for the same funds."
During a PowerPoint presentation, Gee displayed a letter from Chamber president Steve Christensen and that group's intentions to dissolve and merge with TBA.
About a year ago, Entrepreneurs Achieving Success Together changed its name to Tonganoxie Business Association. Through the years, the group has organized various events, such as Spooktacular, which took place this past Friday. That event at one time was a Chamber event, as was the St. Patrick's Parade, which TBA also now coordinates.
This past Labor Day Weekend, the group organized the inaugural Sunflower Stroll, which coincided with the Grinter Farms sunflowers.
Gee pointed out another successful event leading up to Spooktacular.
The Skeleton Scavenger Hunt invites youths to collect skeleton bones from various businesses based on clues they receive. Gee said some 200 children participated in visiting 40 businesses. Gambino's Pizza, Sonic and Skeet Real Estate all offered prizes for the event.
The next big event will be the Mayor's Christmas Tree Lighting on Nov. 18.
TBA's mission statement is "Tonganoxie Business Association exists to bring our community together by nurturing and caring for our businesses."
Some of the group's objectives are to support current businesses with educational resources, referrals and networking opportunities, to promote and sustain economic and community growth and to develop and encourage new business growth for Tonganoxie
The Chamber had varying membership rates based on the size of the business, but TBA has always had a flat rate. TBA had an annual membership of $60, but will go to $100 at the first of the month. Businesses in their first year of existence pay $50 for the first year. There also are sponsorship opportunities up to $1,000 with varying levels.
TBA will be launching a website with a listing of all Tonganoxie businesses. Member businesses will get a link to their business in the listing.
A listing for businesses to hand out at their individual storefronts was suggested at the meeting, which drew about 40 people to the Chieftain Room on the Tonganoxie High School campus.
Others suggested welcome bags and welcoming committees being available to both prospective businesses and new residents so that they could get tours of the school district, city services and so forth.
It was also suggested that the needs of groups asking businesses for items and money for fundraisers be put into a calendar so that efforts can be better initiated. For instance, one business owner said three students from the same organization visited the business in the span of a few days. Some sort of streamlined effort could be created.
Another suggested periodical speakers to come in and discuss topics of good business practices and the like.
Moving forward, there will be a business of the month selected to be profiled.
The Chamber coffees will continue through the business association, as will the weekly TBA meetings.
For more information, visit Tonganoxie Business Association's Facebook page.
The group meets at 8 a.m. Fridays. Starting this Friday, the group will start meeting at Brothers Market.