De Soto dashes dreams for Tonganoxie High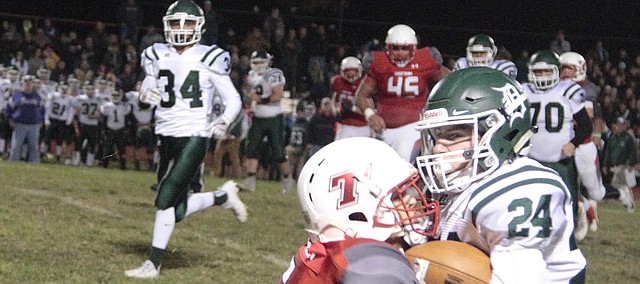 The Tonganoxie High football team got off to a rough start Friday against De Soto in a Class 4A Division I regional game.
After the De Soto defense forced the Chieftains to go three and out on their first possession, Zach Titus blocked a punt and the Wildcats had the ball at the Tongie 10-yard line. The Wildcats weren't able to capitalize on the blocked punt immediately — netting 0 yards on their first two plays — but quarterback Bryce Mohl threw a 10-yard touchdown pass to Darren Winans on 3rd and goal, and De Soto was off and rolling.
Tonganoxie just never could quite get past that opening chain of events, and De Soto eventually rolled to a 42-7 victory.
The defeat was Tonganoxie's firs of the season and ended Tonganoxie's best regular season since 1962.
The rout of the previously unbeaten Chieftains gave the Wildcats their first playoff win since 2010.
Mohl completed eight of his 11 passes for 100 yards and three touchdowns, and added 17 carries for 70 yards on the ground. Trevor Watts was on the receiving end of Mohl's other two touchdown passes. Watts only needed 11 touches to amass 124 yards from scrimmage. The De Soto senior running back caught five passes for 63 yards, and rushed for 61 yards and a touchdown on six carries.
Frustrating for the Chieftains was the Wildcats' ability to make big plays when it appeared THS had a defensive stop.
A few of the Wildcats' biggest plays came in long down-and-distance situations. Along with Winans' touchdown catch on third and 10 to jump-start to offense, Watts hauled in 30-yard reception over the middle on fourth and 11 to push the lead to 21-0.
A Brayden Brummer interception helped set up a 3-yard touchdown run by Trevor Gress to push the Wildcats' lead to 28-0. The Chieftains were quick to answer Gress' touchdown for their lone score of the game. Dalton Bock broke free for a 61-yard touchdown run 20 seconds later. The Wildcats were able to bottle up the big, bruising back aside from the touchdown run, though. Bock finished with 81 yards on 15 carries, but had racked up seven straight 100-yard games — including five of at least 170 yards and three 240-plus yards.
"Bock is an amazing player. Our game plan was just to wrap up because the first guy won't get him down, honestly," said De Soto senior Jack Barger. "He evidenced that on his long touchdown run. That was my bad. He's a great player and breaks tackles so easy."
The momentum of Bock's touchdown was short-lived for the Chieftains. Watts responded with a 53-yard touchdown run for the third score in a 30-second span. The De Soto senior rounded out the scoring with a 5-yard touchdown reception in the fourth quarter.
Tonganoxie had 93 rushing yards and 42 passing yards, while De Soto had 289 rushing yards and 100 passing yards.
Next up for De Soto (9-1) will be a sectional matchup against Fort Scott (8-2) at 7 p.m. Friday at DHS.
Tonganoxie finishes the season at 9-1 with Kaw Valley League and district titles to its credit.
THS had 20 seniors on this year's squad: Bock, Zac Morgan, Bowan Jones, Dylan Kleidosty, Isaiah Frese, Caden Searcy, Mason Beach, Eric Neas, Mac Thompson, Justin Hand, Blake Thomas, LeeRoi Johnson, Keith Willis, Kyle Snyder, Grayson Gilbert, Dylan Funk, Lucas McCoy, Sammy Sigourney, Jake Dezinski and Joe Derzinski.
— Shawn F. Linenberger contributed to this story.