Tonganoxie High lands several on all-Kaw Valley League teams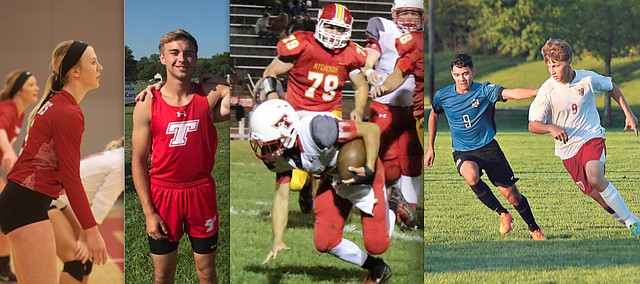 Tonganoxie High had one of its most successful fall seasons in school history this year. THS football, soccer and cross country all were regional champs, while football and soccer also were league champions. The success translated into many individual selections for all-league teams.
Here's a sport-by-sport look at all-Kaw Valley league teams:
Cross country
Cross country landed seven runners total on all-Kaw Valley League teams.
Selections are based on how the runners finished at the KVL meet in October.
Calvin Morgan and Jakob Foley made first-team and Jake Edholm, Chandler Hamman and Dylan Graham made second-team for the boys.
Alyssa Scott and Sierra Staatz were second-team all-KVL for the girls.
THS had another strong season as both the boys and girls consistently were among the top teams in each of their races. The boys won their Class 4A regional also.
Soccer
Tonganoxie landed nine players on this year's soccer all-KVL team.
THS finished the season 16-2-1, winning KVL and regional titles in the process.
First-team selections were seniors Zeb Huseman (defensive player), Bowan Jones (midfielder), Jen Ahlen (forward) and sophomore Javier Barbosa (utility). Second-team selections were junior Gage Sommer (defensive player) and seniors James Breedlove (midfielder) and Chandler Caldwell (forward). Honorable mention were seniors Gad Huseman (midfielder) and Isaiah Frese (forward).
THS led this year's postseason list with nine selections. Piper had seven and Basehor-Linwood six.
Football
Like THS soccer, the league champion in football also had the most selections. THS had 17 selections, with Basehor-Linwood with the second-most at 15. THS had 13 players on the list, with a few earning accolades on both sides of the ball.
LeeRoi Johnson was the lone unanimous pick on this year's all-KVL team. The senior earned the distinction as a first-team defensive lineman.
Senior quarterback Mason Beach and senior running back Dalton Bock also were first-team selections, as were seniors Lucas McCoy and Kyle Snyder as interior lineman on offense, senior Zac Morgan at defensive back and junior Connor Searcy at linebacker.
Second-team selections for the Chieftains were senior Grayson Gilbert (interior lineman), Korbin Riedel (running back), Johnson (tight end), Morgan and Caden Searcy (wide receiver), senior Bowan Jones (placekicker) Snyder and McCoy (defensive linemen) and senior Isaiah Frese (special teams-defense).
Honorable mention was sophomore Elijah Tyner at wide receiver.
Volleyball
Tonganoxie landed two players on this year's all-league volleyball team.
Senior Lauren Willson earned second-team honors, while fellow senior Cami Timm earned honorable mention.
Lansing had the most selection with five and Basehor-Linwood second with four. Lansing (37-6) took third at the 5A state tournament, while Basehor-Linwood (25-16) went 1-2 in pool play at the 4A D-I state tournament.
THS finished the season 14-19.v