Tonganoxie High stages creepy, spooky musical with 'Addams Family'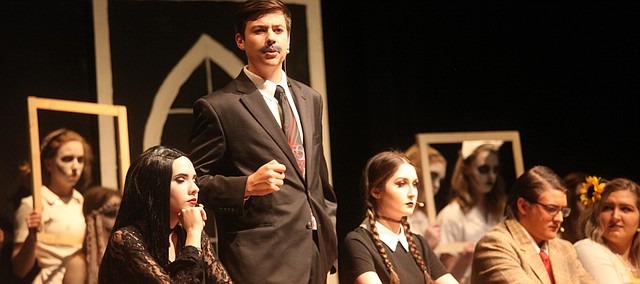 A cartoon, television and movie favorite about a quite quirky clan came to Tonganoxie in the form of a high school musical this past week.
The Tonganoxie High School drama and music departments presented "The Addams Family: A New Musical Comedy" Thursday through Sunday.
The two-act musical opened in 2010, with the original cast featuring Nathan Lane as Gomez and Bebe Neuwirth as Morticia.
At THS, Harrison York and Allison Williams reprised those roles, respectively.
Hannah Kobe was Wednesday Addams, Noah Dial was Pugsley Addams and Samuel Sigourney was Uncle Fester. Anna Edmond and Amber Adcox split time playing the role of Grandma Addams.
Madisen Lansing was Tonganoxie's version of Lurch, while Brendan Rogers portrayed Mal Beineke, Gabby Crockett portrayed Alice Beineke and Jack Duvall played Lucas Beineke.
Several THS students served as The Ancestors: Erin Colcicco, Maureen Wetta, Payton Lynn, Sarah Dunkle, Molly Monahan, Lauren Lawson, Emmie Derzinski, Emilie Crowley, Gwen Slabaugh, Carmen Snyder, Lauryn Jimenez and Tessa Calovich.
Stage manager was Mya Hurley.
Several students served as scenic artists and as crew: Kristyn Trull, Savannah Adams, Sadie Achison, Mya Hurley, Samantha Angell, Sydney Angell, Madeline Bachelor, Bryn Reed, Jenna Trull, Griffin Overacker, Mary Harboura nd Paloma Longueira.
Tom Gifford served as vocal director, while Steve Harrell again was theatrical director. Debbie Holloway was associate director and Carissa Welsh choreographer. Madeline Bachelor handled lighting and Emmett Keene sound.
Upcoming events
Though the fall jazz concert was Tuesday, there still are several events and performances scheduled before the new year in the area of performing arts and academics. Here's a look at the remaining dates. All events will take place at the Tonganoxie Performing Arts Center, except for the Madrigal Feaste, which will be at Tonganoxie Middle School:
• National Honor Society induction ceremony, Thursday
• Madrigal Feaste, Dec. 1-2
•l TMS musical, Dec. 8-10
•l Winter band concert, Dec. 11