Much love for Hutch with Tonganoxie High volleyball signing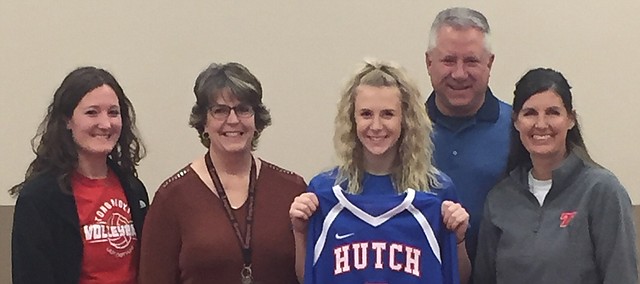 Lauren Willson didn't take much time contemplating the next step in her volleyball career.
The Tonganoxie High senior signed a National Letter of Intent this last Thursday to play volleyball at Hutchinson Community College.
"When I went for the campus visit, I just kind of fell in love with it," she said.
HCC also is just right in terms of distance — a three-hour drive is not too close to home, but not halfway across the country, either.
And then there's the coaching staff.
"Coach Hall, I really liked him," Willson said about coach Patrick Hall, who is 168-69 in six seasons at Hutchinson and 293-195 overall in 13 seasons overall coaching at Pratt, Barton County and now HCC, all in the Kansas Jayhawk Community College Conference. "He was tough, but he taught me a lot while I was down there. I just know he would be a good coach for me."
Johnson County offered her a scholarship and she also was looking at Cowley County and Sterling College. But Willson decided she wanted to go the community college route so she could decide in a couple years whether to continue on as a student-athlete or a student at a four-year school.
"I'm just gonna go with the flow with that," she said.
And again, once she knew she wanted to go to a juco, it didn't take Willson long to sign on to be a Blue Dragon.
"I decided pretty quick because I just loved Hutch," Willson said.
Willson was all-Kaw Valley League honorable mention as a sophomore, first-team as a junior and second-team as a senior in volleyball. She also was all-area for the Lawrence Journal-World as a junior (all-area selections haven't been released yet for this season).
The outside hitter/back row player helped Tonganoxie to two consecutive Class 4A Division I state appearances in 2015 and 2016, including a fourth-place finish in 2015.
Willson also played basketball for two years and will try to help THS to a state appearance in softball after several regional runner-up finishes the last few years. She was second-team all-KVL this past season at shortstop.
At Hutchinson, Willson likely will continue as an outside hitter, though Hall has told Willson she could be a utility player seeing time on the court at various positions.
Tonganoxie finished the season 14-19 last month after a three-set match against Atchison in the substate semifinals kept the Chieftains from making a third straight state appearance.
Willson will jump into a program that has seen its share of recent success.
The Blue Dragons have registered 25 or more wins in each of Hall's seasons as HCC coach, including a 34-9 record and ninth-place finish at the NJCAA Tournament in 2015.
This season, HCC is 27-12 after advancing to another NJCAA Division I Tournament last week. The Blue Dragons are the No. 15 seed and will open with No. 2 Iowa Western (37-1) at 11 a.m. Thursday at the Hutchinson Sports Arena. It's the first time Hutchinson has hosted the national volleyball tournament.
Academically, Willson plans get her general studies out of the way at HCC before deciding where to continue her education. Whether that includes a volleyball scholarship to a four-year college is up in the air, but Willson is set on her career path. She always wanted to play at Kansas State, but even if she were to go to K-State exclusively as a student, she knows one thing for sure: she wants to go into something in the forensic science realm.
For now, she's going with the flow.
"I'm super excited, though," she said. "And it's not too far from home."