Hollywood Homecoming in Tonganoxie; coronaton, kickoff being moved up due to weather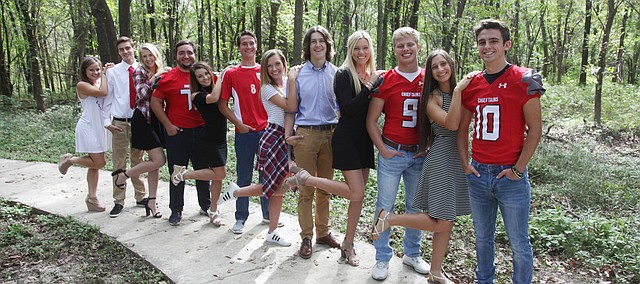 The theme is Golden Hollywood; the opponent is the Golden Bears.
Homecoming week is here for Tonganoxie High School, with the dance theme Saturday night being "Golden Hollywood."
The dance will run 8:30-11:30 p.m. Saturday at the Chieftain Room, with tickets being $7 for a single ticket and $10 for couples.
Before the dance, on Friday, THS will play the Turner Golden Bears for the homecoming game.
There will be plenty of homecoming festivities before those main attractions.
Spirit Day themes are Movie Character Day on Monday, while Fake Injury Day was Tuesday. Today is Country Day. Thursday is Throwback Day and Friday is Red/White Day.
The Homecoming Parade will be 2 p.m. through downtown Tonganoxie, with the parade stopping for a pep rally.
A reception for the Tonganoxie Education Foundation Hall of Fame inductees will be 3-5 p.m. Friday at Myers Hotel.
A tribute presentation for the inductees will start about 4 p.m. at the hotel.
Inductees will be on hand near the south entrance to Beatty Field during Friday night's game and will be officially inducted at halftime.
Tonganoxie (4-0) takes on Turner (2-2) for this year's homecoming game. Due to anticipated inclement weather, Coronation has been moved up to 4:45 p.m. Kickoff will be 5:30 p.m.