Locked in and focused: Tonganoxie High soccer prepares for playoffs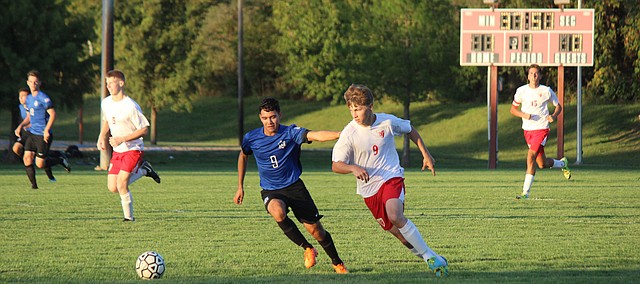 Tonganoxie registered its third shutout of the season and moved one step closer to a Kaw Valley League title Monday.
THS blanked Lansing, 5-0, at Lansing. The victory moved Tonganoxie to 12-0-1 on the season and 5-0 in conference play.
Tonganoxie's final conference game is Thursday in Kansas City, Kan., against Bishop Ward. A victory against the Cyclones would make Tonganoxie the league champions. Heading into this week, a handful of KVL teams had one conference loss. But THS has the tiebreaker over them.
THS coach Jon Orndoff isn't worried about the varying scenarios.
"The guys are pretty focused right now," the first-year THS coach said. "They're not ready to celebrate yet. They're just staying focused."
The Chieftains finish out the regular season with a final road game Monday in Atchison against Maur Hill and then their home finale Oct. 19 against Kansas City Christian.
That 10-day break will be like a bye week of sorts in football. Players can work on healing some nagging injuries and Orndorff can implement some more plays and strategies as the postseason nears
In the victory against Lansing, Jens Ahlen led the team in scoring with two goals, while Chandler Caldwell, Gad Huseman and Gage Sommer also scored for THS.
This past Thursday, Tonganoxie scored often against the visiting Junction City Blue Jays. The game ended early because of the mercy rule, as THS won, 11-1.
Caldwell led the Chieftains with four goals, while Zeb Huseman and Sommer each scored two. Joseph Caiharr, Isaiah Frese and Gad Huseman also scored for Tonganoxie in the victory.
The victory against JCHS followed a nail-biter on the road. Tonganoxie played on the road Sept. 26 against Louisburg. With a rambunctious home crowd looking on for the Wildcats, the Chieftains were able to hang on for a 2-1 victory against a future Frontier League foe.
Ahlen got both of THS goals in the victory.
"I think we're moving the ball really well and possessing really well," Orndorff said. "I'd say we need to work on not making our mental mistakes … we need to work on creating opportunities and being creative."
Orndorff still likes a great deal of what he sees on a team that could be on track to have the best record in school history.
Along with Tonganoxie's offensive production, he said goalkeeper Wyatt Martin "has stepped up and is playing on a whole new level." After the Eudora match, Martin "has just been playing lights out," Orndorff noted.
Defensively, Zeb Huseman has been a rock and Isaiah Frese, who scores a good number of goals himself, has found ways to feed teammates the ball for goals also.
Former coach Brian Kroll guided THS to the state championship in 2012. Tonganoxie lost, 5-1, to Hayden at Piper's football stadium, but became the first THS team to play in a state tournament championship.
That's where the true focus lies for this year's team: state title match.
"We talk about leaving a legacy all the time," Orndorff said. "It's been weird. It doesn't seem like 13 games now, but the guys are just focused on the next game.
"The end goal is state. That's what their sights are set on. Winning the league is great and everything, but to them it's minor right now. It's getting to state and getting to that state championship game."