Tonganoxie High football stays perfect, now leads
KVL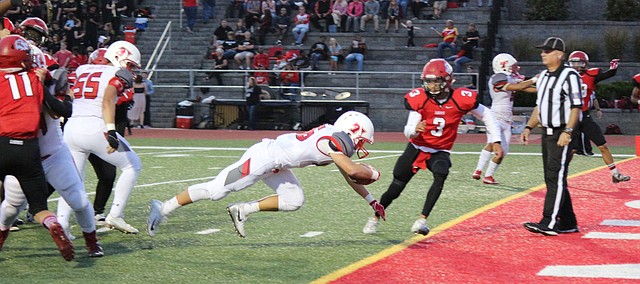 Tonganoxie football keeps rolling as district play gets ever closer.
Along with a playoff berth, a conference title in the final year of Kaw Valley League could be icing on the cake.
THS rolled Friday to a 37-3 road victory against KVL foe Lansing.
The victory moved the Chieftains to 5-0 overall and 3-0 in the league, but some other happenings in the league made the league race more interesting.
Basehor-Linwood, which hadn't allowed a point in is first four games, fell to Bonner Springs, xx-xx.
THS defeated BSHS the week before. As the standings are now, Tonganoxie has no league losses and is in sole possession of first place. while Bonner Springs, Basehor-Linwood and Piper each have one loss.
If the Chieftains can get a homecoming victory this Friday against the Turner Golden Bears (2-3 overall and 1-3 KVL), THS would at worst have a share of the league title by splitting their district games against Piper (Oct. 21 in Tonganoxie) and BLHS (Oct. 28 in Tonganoxie). THS opens district play Oct. 14 at Atchison.
Friday's game will be a rematch of a strange game last year in Kansas City, Kan. Tonganoxie had a 24-0 lead in a game that was played during the course of two days because of threatening weather. Tonganoxie had the lead when the game was postponed, but Turner scored 28 unanswered points and won, 28-24.
THS 37, Lansing 3
Tonganoxie's running game continues to be the anchor of the THS offense.
Dalton Bock ran for 267 yards and Korbin Riedel another 91 yards as the Chieftains cruised tot the 34-point victory.
Bock averaged 9.2 yards per carry, as he ran the ball 29 times. Riedel ran 20 times. Justin Hand had 23 yards on six carries and Mason Beach two carries for 6 yards.
Beach went 5-for-15 for 100 passing yards. The quarterback thew for two touchdowns and had an interception.
Elijah Tyner had 88 yards on four catches, including Beach's two touchdown throws. Eric Neas had one reception for 12 yards.
Dylan Kleidosty and Hand each had an interception and Hand recovered a fumble.
Connor Searcy led the Chieftains in tackles with 12 (nine solo), while Drake Pray had eight (five solo). Zac Morgan chipped in six (five solo) and LeeRoi Johnson five (four solo).
Bowen Jones connected for a 22-yard field goal and was 4-for-4 on extra-point attempts against the Lions.
Score by quarters
THS 7 10 7 13 — 37
LHS 3 0 0 0 — 3