Chieftain Cafe numbers continue to climb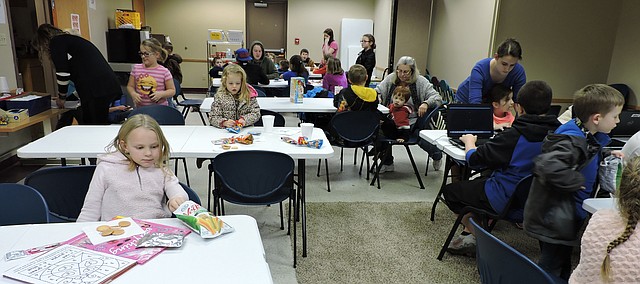 Chieftain Cafe continues to be a hot spot for Tonganoxie youth while providing healthy food options after school.
The Tonganoxie Public Library program started in January, growing to an average attendance of 50 youths by the end of the school year.
The after-school program now is averaging 80-90 participants from 3:30-5 p.m. on weekdays.
"We started out with 30 people," said Nicole Holifield, Tonganoxie Public Library director. "We've had over 1,500 in September. That's our biggest month to date. It's exciting."
The program is volunteer-run, as library volunteers Patty Szini and Liz Daniels are two of the volunteers heavily involved in the program. Both even won awards from the Northeast Kansas Library Association for all of their contributions.
The library offers themes each day for the youths, though they also are welcome to work on homework and other things. There's Minecraft Monday, Techy Tuesday, art club on Wednesday and Trivia Thursday. Friday is ice cream or frozen yogurt day.
Organizers try to offer as many healthy options as possible. Sure, there are frozen treats on Fridays, but Holifield said the library works to have plenty of healthier options.
Grants have been a big part of funding the Chieftain Cafe. It also was a volunteerism project for a group of Southern Leavenworth County Leadership Development students that included Holifield. Contributions and grants from Good Shepherd Thrift Store and Food Band and Lawrence Memorial Hospital. Other are offering volunteer help and additional contributions, such as a youth group at Tonganoxie United Methodist Church and the Tonganoxie Lions Club.
Patrons also can donate healthy foods. For instance, a big box of of individual Baked Lay's potato chips would be helpful.
"Obviously we don't want people to bring in a case of candy bars," Holifield said. "It's that line of 'I don't want to be picky,' but I want the kids to get the most nutrition they can."
Holifield said people have been very supportive of the program. And, it's provided a way for youths who might not have as many food opportunities at home to get nourishment.