Chieftains bruise Bears, 41-8, as Tonganoxie stays undefeated entering district play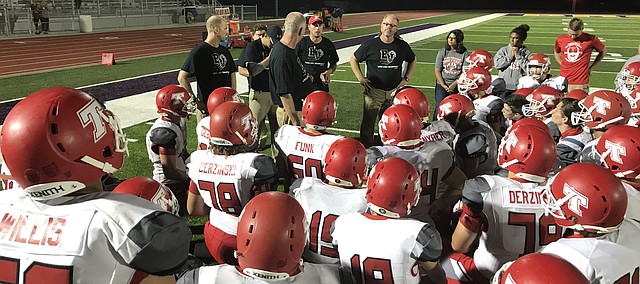 Tonganoxie jumped out to a 21-0 first-quarter lead and never looked back Friday in its homecoming game against Turner.
THS won, 41-8, improving to 6-0 overall and 4-0 in Kaw Valley League play
Tonganoxie got on the board first with 9:27 still left in the first quarter. THS quarterback Mason Beach found Elijah Tyner for a 20-yard touchdown pass.
At the 6:47 mark, Dalton Bock scampered in for a 72-yard run and THS had a 14-0 lead.
With 2:16 left in the quarter, Bock had another 72-yard run and, thanks to three Bowen Jones' extra points, THS had the 21-0 lead. Bock finished the night with 244 yards on 16 carries and three touchdowns. Beach went 4-for-10 with 105 yards passing, a touchdown and an interception.
Korbin Riedel finished the game with 107 yards on 16 carries
Connor Searcy caught a 62-yard touchdown pass, while Zac Morgan also caught a touchdown pass.
Drake Pray led the team in tackles with five, though 11 different Chieftains registered tackles.
Justin Hand also recovered a fumble in the victory.
The Chieftains now move into the all-important district play portion of the schedule.
THS is at Atchison (4-2) on Friday. The Chieftains then are home against Piper (3-3) on Oct. 20 and Basehor-Linwood (5-1) on Oct. 27. Piper and BLHS each have one KVL loss, so Tonganoxie would do no worse than a claim a share of the KVL title if they split those two games. More importantly, though, would to go 3-0 in district play and head into the playoffs as district champions. The top two teams in each district advance to the playoffs.