Former Tonganoxie resident sentenced to 19 years in case involving
KCK

officer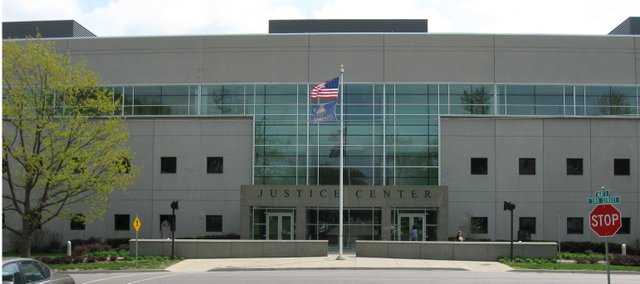 A former Tonganoxie resident was sentenced last week to more than 19 years in prison for aggravated robbery and burglary in a case related to the death of a police officer in Kansas City, Kan.
Curtis Ayers, 30, was sentenced Thursday in Leavenworth County District Court for events that transpired May 9, 2016. He was sentenced to 233 months for the aggravated robbery and 32 months for the aggravated burglary, which will run concurrently. He did run this case consecutively to his capitol murder case from the same day in Wyandotte County. Ayers pleaded guilty to these two counts Thursday.
On May 9, 2016, Ayers was at the Hollywood Casino in Wyandotte County. Law enforcement officials were called to the scene. Detective Brad Lancaster attempted to stop Ayers from leaving, but Ayers pulled a handgun from his waistband and fired multiple shots into Lancaster's car from about 8 feet away. Lancaster suffered seven gunshot wounds that would eventually kill him. Ayers then took Lancaster's vehicle, but not before being rammed by another officer's vehicle and engaging in a shootout in which that officer and Ayers were not hit.
Ayers proceeded to 118th Street and State Avenue where he crashed Lancaster's car into another vehicle driven by a woman with two children. Ayers pulled the woman out of her car, breaking her arm in the process. Ayers proceeded to drive that vehicle into Basehor at 141st Street, entering Leavenworth County in the process.
Ayers found a house with a garage door open and pulled the stolen car with the two children in back into the garage. He shut the door and proceeded into the house to find a man home for lunch. Ayers proceeded to point his gun at the man and made him go room to room to make sure Ayers was safe.
Ayers stayed in the house looking out the window saying he was looking to see if police were coming. Throughout Ayers' time in the house he kept the gun pointed at the man. Eventually, Ayers demanded another set of clothes from the man.
He then left with the man's vehicle, leaving the two children and the other car in the man's garage. Before leaving, Ayers told the man to not call 911 for an hour. The man immediately called 911 reporting what had just transpired.
Ayers was eventually apprehended in Kansas City, Mo. On Jan. 3, 2017, Ayers pleaded to capitol murder, assuring he would not face the death penalty. He also pleaded to two counts aggravated robbery, two counts kidnapping, two counts aggravated burglary and aggravated assault on possession of a firearm.
The victim and his wife appeared in court, but chose not to address the court.
Ayers apologized to the victims.
"I do feel bad for what I did," he said. "I can't make excuses or take it back."
He blamed drugs.
"This was unimaginable series of events that this office was not willing to allow the defendant any breaks," said Todd Thompson, Leavenworth County attorney. "We had three counts initially charged in our county that he already pleaded to in Wyandotte (County).
"Our prayers go out to the family, friends of Brad Lancaster and the Kansas City Police Department. Lancaster was truly a hero. Our sympathy to the mother and children who also were affected. We are lucky our victim and the children weren't harmed."