Happy Homecoming in Tonganoxie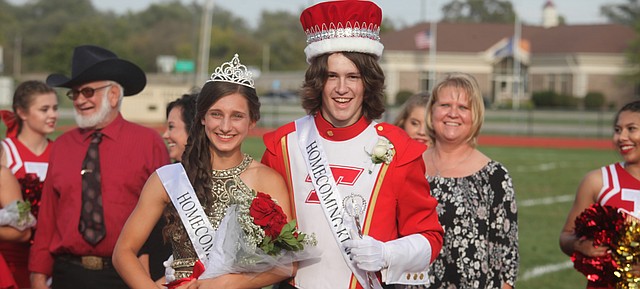 Rain couldn't put a damper on Tonganoxie Homecoming festivities Friday.
With weather forecasts calling for severe weather Friday night, school officials moved up the coronation ceremony to 4:45 p.m. and the football game to 5:30 p.m. at Beatty Field.
The 90-minute move in scheduling, it was hoped, would get everything out of the way before storms came. Though it was a rainy evening, the weather didn't get to Tonganoxie until later.
Gage Smith and Sierra Staatz were named Homecoming king and queen.
At halftime Marilyn Daniels was recognized as this year's Alumni Achievement Award winner, while Mark Mall, Cheta Mark and Karen Sephenson were this year's Tonganoxie Education Foundation Hall of Fame inductees.
Plaques of all four honorees will hang in the concourse area near the Tonganoxie Performing Arts Center at THS.
Earlier in the day, the community gathered for the homecoming parade along Fourth Street.
King and queen candidates were quizzed throughout the pep rally at Fourh and Bury streets, while the dance team and cheer squad both performed.
Seniors from various fall sports and activities spoke during they rally, while multiple Forrest Gump impersonators made their way into the parade. The boys and girls cross country teams were dressed as Gump, a nod to the iconic 1990s movie.
The THS FFA chapter had the winning float at the parade, while the THS Family, Career and Community Leaders of America group placed second. FFA goes just by its acronym these days, but it stands for Future Farmers of America. The senior class placed third.
A reception took place later in the afternoon for the Hall of Fame inductees.
At the football game, the Chieftains continued to roll along. Tonganoxie won, 41-8, against Turner. The victory improved THS to 6-0 overall and 4-0 in the Kaw Valley League.
Homecoming festivities concluded with an academic awards banquet for younger Tonganoxie students Saturday morning and then the homecoming dance Saturday night for THS students.