Tonganoxie cross country boys take 1st, girls 2nd at Pleasant Ridge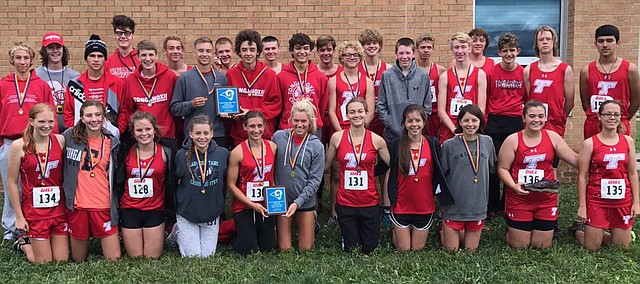 The Tonganoxie High cross country teams had a 1-2 punch at Saturday's Pleasant Ridge Invitational near Easton.
The boys won their meet with a first-place finish, while the THS girls placed second.
Tonganoxie scored 37 points, compared to Basehor-Linwood's 72 in second. Pleasant Ridge was a close third with 74. Perry-Lecompton placed fourth with 104. McLouth (145), Jeff County North (160), Valley Falls (170) and Maur Hill (179) rounded out the rest of the field.
Tonganoxie runners placed second, fifth, seventh, 11th, 12th, 13th and 16th.
Calvin Morgan took second (17 minutes, 39 seconds), Chandler Hamman fifth (18:15), Jakob Foley seventh (18:26), Vick Scott 11th (18:35), Dylan Graham 12th (18:38), Jake Edholm 13th (18:50) and Josh Bosley 16th.
Basehor-Linwood won the girls race with a 23. Tonganoxie scored 33, while Perry-Lecompton tok third with an 89, Maur Hill fourth with a 122 and PRHS fifth with 125.
THS placed fourth, sixth, seventh, ninth, 12th, 14th and 15th.
Sierra Staaz led THS runners with a time of 22:01, good for fourth place. Alyssa Scott placed sixth (22:11) and Erin Williams seventh (22:14). Kristi Chambers finished the meet in ninth (22:21).
Katherine Wombwell finished 12th (22:40), Heather Wombwell 14th (23:04) and Mathia Slinkard 15th (23:10).
McLouth's Bayle Wolfe was the overall individual champion. She finished in 21:18. MHS' Ceara Funk placed 17th (23:22).
Girls junior varsity results also were available, but boys JV was not.
Mia Bond won the JV meet with a 22:12 time.
Tonganoxie finishes up the regular season with the Kaw Valley League Meet. It will be Thursday at Wyandotte County Park near Bonner Springs.
Ater that, THS has regionals and then state at Wamego.