Tonganoxie High boys soccer claims
KVL

crown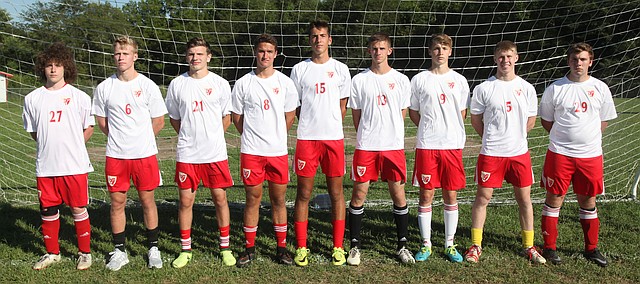 There were goals aplenty Monday for the Tonganoxie High boys soccer team.
The Chieftains won, 10-0, on the road in Atchison against Maur Hill. The game ended about halfway through the second half when THS stretched its lead to 10. That's the magic number to force the mercy rule. The game ended with about 26 minutes left in the match.
Isaiah Frese led the team in scoring with four goals. Jens Ahlen scored three, Zeb Huseman two and Bowen Jones one.
Monday's victory came just a few days after THS officially won the Kaw Valley League title.
THS defeated Bishop Ward, 5-1, on Thursday in Kansas City, Kan.
Ahlen was the top scorer against the Cyclones, as he went for the hat trick of three goals against BWHS. Caldwell and Frese each had a goal in the victory.
Tonganoxie appears to be on its way to the best record in school history. THS is 14-0-1 with one match left in the regular season. The 2012 team went 16-4-1, finishing up the season as Class 4-1A state runner-up after losing, 5-1, to Hayden, in the state championship.
THS takes on Kansas City Christian at 6 p.m. Oct. 19 at Chieftain Park. It also will be Senior Night. Playoff pairings will be announced later that week.