Tonganoxie volleyball gets home victory against Bishop Seabury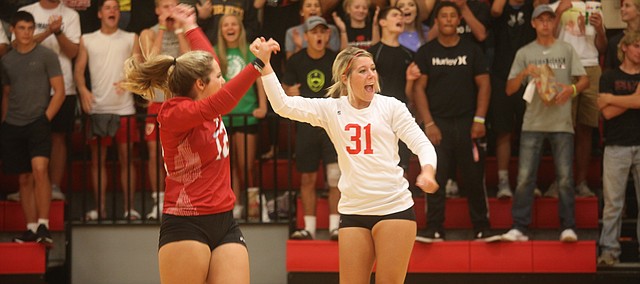 Chrissie Jeannin's Tonganoxie High volleyball team is back in the win column.
THS swept Bishop Seabury, 25-13, 25-13, 25-13, Monday on the Chieftains' home court.
The victory moved THS to 12-18 on the season.
Monday's win came after a rough weekend at the De Soto Spikefest. Tonganoxie lost to Hayden, 25-14, 25-21 and then Leavenworth, 29-27, 25-19.
Against De Soto, the team fell, 25-12, 25-15.
And against Eudora, THS lost, 25-20, 25-9.
The team looks to finish out the season with momentum. The team played Tuesday in Kansas City, Kan., against Turner after The Mirror's print deadline.
Tonganoxie finishes out the season Oct. 17 with the final home match of the season. Tonganoxie plays Bishop Ward on Senior Night that day.
Substate is Oct. 21 in Atchison. Competing with THS in the Class 4A Division-I substate are Atchison, Basehor-Linwood and Piper.
THS defeated Atchison earlier this year, but also has lost to both Basehor-Linwood and Piper in previous meetings this season.