Tonganoxie High volleyball wins Senior Night, prepares for substate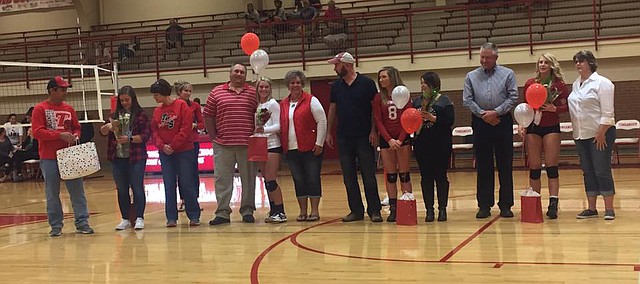 Substate approaches this weekend at Piper, but the Tonganoxie High volleyball team had some final tuneups before the postseason.
Tonganoxie won a four-set match against Turner on Oct. 10 in Kansas City, Kan. The Chieftains outlasted the Golden Bears, 25-10, 24-26, 25-20, 25-12.
Senior Lauren Willson led the team in kills with 20, while junior Taylor Knipp and sophomore Erin Gallagher each had nine kills. Junior Corinn Searcy added five. Sophomore Lauren Gray registered three kills and freshman Frankie Downing one in the victory. Searcy led the team in blocks with three. Knipp had two and Gray one.
Willson led the team with seven digs in the match, while fellow senior Makenzie Sample had five, Gallagher four, Downing three and junior Grace Wogomon three.
The victory moved THS to 13-18 on the season. THS faced Bishop Ward on Tuesday after The Mirror's print deadline. It marked the final regular season match and was Senior Night.
Substate is Saturday in Atchison.
Tonganoxie (14-18) is the No. 4 seed and will take on No. 1 Atchison (24-10) a 2 p.m. Saturday. No. 2 Basehor-Linwood (22-14) will take on No. 3 Piper (18-17) in the other semifinal match.
The Chieftains will look to advance to state for the third consecutive season and first under coach Chrissie Jeannin. THS defeated Atchison earlier this year, but also lost to both Basehor-Linwood and Piper in previous meetings.