Shutout showcase for Tonganoxie football as
THS

moves to 7-0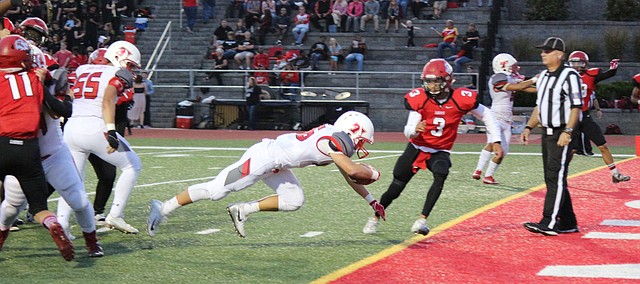 Tonganoxie High used a solid ground attack Friday to neutralize Atchison in a 49-0 district game victory.
THS (7-0 overall, 4-0 Kaw Valley League and 1-0 district play) amassed 364 rushing yards — averaging just more than 8 yards per carry — in a game that the Chieftains controlled from the beginning.
Dalton Bock again led the team in rushing with 251 yards on 25 carries. Korbin Riedel generated 81 yards on 14 carries and Justin Hand 32 yards on six carries. Riedel had three touchdowns and Bock two.
Tonganoxie had 90 yards in the air, including two touchdowns.
Zac Morgan had 46 yards on four receptions and a touchdown, while LeeRoi Johnson had one reception, but it was a 19-yard catch for a touchdown. Caden Searcy had two receptions for 12 yards and Elijah Turner one catch for 13 yards.
Quarterback Mason Beach went 8-for-18 for 90 yards.
He had the two TDs and an interception.
Defensively, 13 Chieftains recorded tackles, whether solo or assisted. Drake Pray had 12 tackles, two of which were solo, and Connor Searcy had 11, as two of his also were solo. Kyle Snyder had the most solo tackles with four. He finished the game with five total tackles.
Tonganoxie also held AHS to 133 yards of total offense. THS allowed just one reception. It was for seven yards.
THS recorded its first shutout of the season against Atchison, though Tonganoxie hasn't given up many points this season. The Chieftains have given up more than eight points just two times, and even those games they allowed just 14 and 12 points.
The Chieftains now will look to move closer to KVL and district titles this week.
Tonganoxie plays Piper on Friday at home. The Pirates (3-4 and 3-2) are 0-1 in district play after falling, 33-0, to Basehor-Linwood at home Friday.
BLHS (6-1 and 4-1) is host to Atchison (4-3) on Friday.
The Oct. 27 clash between Tonganoxie and BLHS likely will decide the Class 4A Division I district champion and KVL champ.
Score by quarters
Tonganoxie 13 22 7 0 — 49
Atchison 0 0 0 0 — 0
Schedule/results
Sept. 1 at Spring Hill, W, 23-14 (1-0, 0-0)
Sept. 9 EUDORA, W, 35-7 (2-0, 0-0)
Sept. 15 at B. Ward, W, 61-6 (3-0, 1-0)
Sept. 22 BONNER, W, 28-12 (4-0, 2-0)
Sept. 29 at Lansing, W, 37-3 (5-0, 3-0)
Oct. 6 TURNER, W, 41-8 (6-0, 4-0)
Oct. 13 at Atchison, 49-0 (7-0, 4-0)
Oct. 20 PIPER
Oct. 27 BASEHOR-LINWOOD