Skeleton search starts Friday in Tonganoxie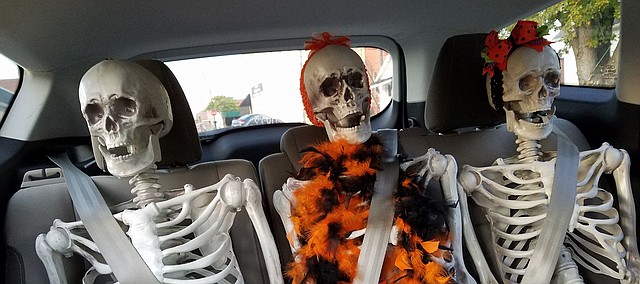 Halloween fun soon will be returning to Tonganoxie.
The annual Skeleton Scavenger Hunt will help folks get into the holiday mood.
The six-day hunt starts Friday and finishes up Oct. 26. There will be 250 skeletons available, so the contest is open to the first 250 participants. Clues can all be found inside the Tonganoxie city limits.
Multiple clues will be given. Those clues will lead hunters to the next clues or bones. Once the skeleton is completed and turned in, folks will receive a Gambino's coupon for a free pizza and will be entered into a drawing for one of 10 $10 cash prizes from Skeet Real Estate.
The clues will be available at the Facebook page, facebook.com/skeletonscavengerhunt every day starting at 3:15 p.m. Friday.
Clues will be available at each business only on the day announced for the times posted. There will be a clue on the door to take hunters to another business to get the next clue or bone. Parents are asked to refrain from cheating by calling each other to avoid the stops in between. This event is meant for family fun and community activity.
Organizers remind participants to thank the participating businesses.
One skeleton per student, one prize per student and one drawing entry per student.
There will be only one make up/catch up day.
Tonganoxie Business Association, formerly Entrepreneurs Achieving Success Together, again is sponsoring the event.
The scavenger hunt leads into the annual Spooktacular, which TBA, along with the city of Tonganoxie, is sponsoring.
Spooktacular is 6-8 p.m. Oct. 27 in downtown Tonganoxie. Food, games, a movie and, of course, trick-or-treating all are part of the annual event.
Look in next week's edition of The Mirror for more area events planned for Halloween and the days leading up to the holiday.