Tonganoxie High cross country boys nab 2nd, girls 3rd at final
KVL

meet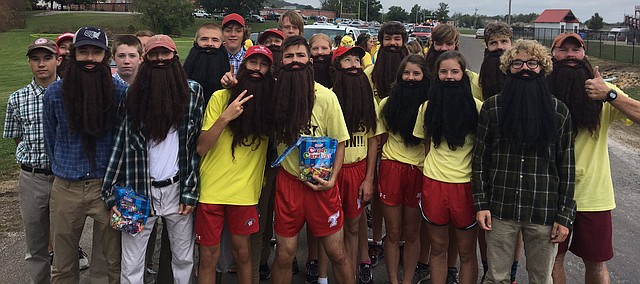 The Tonganoxie High boys and girls cross country teams again finished as two of the top teams in the Kaw Valley League.
In the final KVL race in history, the boys placed second and the girls third Thursday at Wyandotte County Park.
Lansing won the boys race with 20 points. Tonganoxie took second with 45, while Basehor-Linwood scored 77 for third. Bonner Springs placed fourth (115), Piper fifth (121) and Turner sixth (155).
Basehor-Linwood won the girls races with 23 points. Lansing took second with 47 and Tonganoxie nabbed third with 71 points.
Bonner Springs placed fourth with 109 and Turner fifth with 133. Bishop Ward had incomplete teams in both races, while Piper also fielded an incomplete team on the girls side.
Calvin Morgan led the Chieftain boys with a fifth-place finish. The junior finished the race in 17 minutes, 43.9 seconds. Fellow junior Jakob Foley placed seventh with an 18:08.2 time and sophomore Jake Edholm ninth (18:23.8).
Senior Chandler Hamman rounded out the top 10 by finishing 10th with a 18:24.8 time.
Dylan Graham, a THS sophomore, placed 14th (18:49.1), Aidan Boone 19th (19:18.9) and sophomore Scotty Vick 20th (19:19.9).
Senior Alyssa Scott was Tonganoxie's top runner in the girls race. She placed 10th with a time of 22:08.9. Freshman Kristi Chambers placed 13th with a 22:23 time, while senior Sierra Staatz was right behind in 14th with a 22:27.8 time. Senior Mia Bond nabbed 16th (22:37.2), while freshmen Katherine Wombwell (22:54.8) and Heather Wombwell (22:56.4) placed 18th and 19th, respectively.
The top seven runners in each varsity race automatically are first team all-Kaw Valley League members. Runners 8-14 are second team all-KVL.
Morgan and Foley were first-team all-league and Hamman and Graham second-team all-KVL.
For the girls, Scott, Chambers and Staatz were second-team all-KVL.
In the junior varsity races, junior Josh Bosley won the boys race in 18:58.9.
Fellow juniors Adrian Cullen (20:24.9) and Aaron Grant (20:51.4) placed sixth and 10th, respectively. Another junior, Alex Falk, placed 13th (21:04.3), while freshman Samuel Manus (21:23.4) was 16th and senior Tyler Griffith (21:29.3) was 17th. Freshman Chas Gilmore placed 22nd (22:08.1) and freshman Nolan Rogers 23rd (22:12.3). Sophomore Abraham Puebla placed 33rd (23:38.7) and junior Braxton Shupe 36th (23:58.2). Rounding out the THS runners were senior Jon Derzinski (39th, 24:14.5), sophomore Kyle Chambers (40th, 24:15.3) and junior Brendan Rogers (42nd, 25:05.7).
In the girls JV race, junior Mathia Slinkard finished second (23:49.9) and freshman Clara Altenhofen 13th (26:35.1). Sophomore Sam Angell placed 21st (28:54) and freshman Sydney Angell 25th (33:10.9).
Tonganoxie will look to send both teams to state by finishing in the top 3 in the respective team standings at its Class 4A regional Oct. 21. The girls race will start at 10:45 a.m. and the boys at 12:15 p.m.
Like the KVL meet, regionals also will be at Wyandotte County Park. Other teams there with THS will be Atchison, Baldwin, Basehor-Linwood, Bonner Springs, Eudora, Holton, Bishop Ward, Piper, Sumner, Marysville, Jeff West, Santa Fe Trail, Bishop Miege, Spring Hill and Hayden.