Tonganoxie High boys soccer opens regionals as No. 1 seed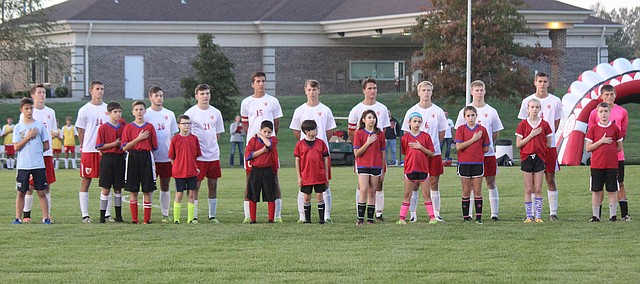 Jon Aldorff's first Tonganoxie High boys soccer team earned a top regional seed.
THS (14-0-2) earned the top spot in the Northeast Regional at a seeding meeting Saturday.
In Regional No. 1, THS takes on No. 13 Eudora (5-12) Tuesday at Chieftain Park.
Tonganoxie defeated Eudora, 6-1, on Sept. 18 in Eudora. The No. 13 Cardinals advanced to the match after defeating No. 12 Hayden, 2-0, Monday in Topeka. The winner of Tuesday's match takes on Maranatha Christian Academy at 6 p.m. Thursday. Maranatha, the No. 6 seed defeated No. 7 Bishop Seabury (7-7) by a 6-1 score Monday in Shawnee. THS outlasted Maranatha, 4-3, in overtime in a late match played Sept. 22 in Shawnee. The winner of that match is regional champion and next would play this coming Tuesday.
In Northeast Regional No. 2, the No. 2 seed Bishop Miege (13-1-1) plays No. 11 Bishop Ward (7-10) and No. 5 Piper (11-5) takes on No. 8 Kansas City Christian (8-7-1) on Tuesday.
That tie on KCC's record came this past Thursday when the Panthers played to a scoreless tie against the Chieftains. It was Senior Night for Tonganoxie at Chieftain Park.
And in Northeast Regional No. 3, the No. 3 Basehor-Linwood Bobcats (12-2-1) played No. 10 Heritage Christian (7-9) after The Mirror's deadline. No. 4 Sumner (11-2-1) defeated No. 9 Bonner Springs (7-8-2) by a 3-0 score Monday in the other regional semifinal.
Season results
Aug. 25 BALDWIN, W, 4-2 (1-0)
Aug. 29 BONNER SPRINGS, W, 11-4 (2-0, 1-0)
Aug. 31 BASEHOR-LINWOOD, W, 4-3 (3-0, 2-0)
Sept. 5 at Atchison, W, 9-0 (4-0, 2-0)
Sept. 12 at Turner, W, 4-3 (5-0, 3-0)
Sept. 14 PIPER W, 2-1 (6-0, 4-0)
Sept. 16 ST. THOMAS AQUINAS, T, 2-2 (6-0-1, 4-0)
Sept. 18 at Eudora, W, 6-1 (7-0-1, 4-0)
Sept. 21 ST. MARY'S ACADEMY, W, 3-0 (8-0-1, 4-0)
Sept. 22 at Maranatha Academy, W, 4-3 (OT) (9-0-1, 4-0)
Sept. 26 at Louisburg, W, 2-1 (10-0-1, 4-0)
Sept. 28 JUNCTION CITY, W, 11-1 (mercy rule) (11-0-1, 4-0)
Oct. 2 at Lansing, W, 5-0 (12-0-1, 5-0)
Oct. 5 at Bishop Ward, W, 5-1 (13-0-1, 6-0)
Oct. 9 at Maur Hill, W, 10-0 (14-0-1, 6-0)
Oct. 19 KANSAS CITY CHRISTIAN, T, 0-0 (14-0-2, 6-0)
Oct. 24 EUDORA