Tonganoxie soccer outlasts Eudora, advances to play Maranatha on Thursday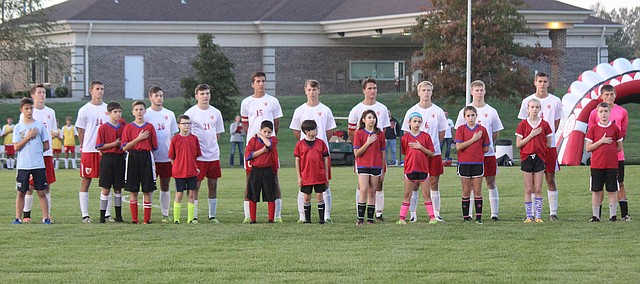 On a chilly fall evening Tuesday at Chieftain Park, it took the Tonganoxie High soccer team a bit of time to warm up.
Competing in a Class 4-1A regional, the unbeaten and top-seeded Chieftains faced a No. 13 Eudora team that Tonganoxie had handled earlier in the season.
But at halftime, the match still was scoreless.
Coach Jon Orndorff said the first half was like a carryover from this past Thursday's regular-season finale against Kansas City Christian. THS had to settle for a scoreless tie against the Panthers.
"In the second half we just played Tonganoxie soccer," Orndorff said.
The Chieftains warmed up pretty quickly in the second half.
Not even three minutes into the second half, Chandler Caldwell scored on a Gage Sommer assist. The score came with 37:39 left in the match.
Exactly a minute later, Gad Huseman scored on a Bowan Jones assist and the Chieftains suddenly were up, 2-0, on the Cardinals.
Eudora's Jon Bock made things interesting with 12:38 left. He cut the deficit in half with a goal for EHS.
With 3:51 left, however, Isaiah Frese scored another goal. THS went on to win, 3-1.
THS improved to 15-0-2, while Eudora's season ended at 5-13.
Tonganoxie advances to play Maranatha Christian Academy (10-7) a 6 p.m. Thursday at Chieftain Park. It's a rematch with Orndorff's alma mater and team he coached last season. THS defeated MCA, 4-3, in overtime, earlier this season during a late match in Shawnee.
The game started after the Maranatha football game that night, but the visiting Chieftains were able to get the victory in a thriller.
"We're going to have to beat these good teams because it only gets harder from here," Orndorff said about making a playoff run to state.