Kaw Valley, district titles on line Friday in Tonganoxie-Basehor clash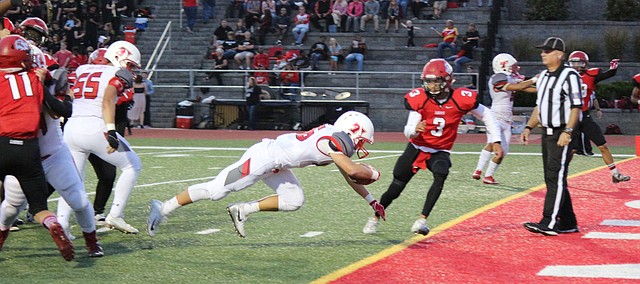 The floodgates opened midway through the second quarter Friday for the Tonganoxie High football team.
THS led Piper, 7-0, when Connor Searcy scored on a 9-yard run with 7:58 left before halftime.
On the next play, Tonganoxie recovered the kickoff. Moments later, quarterback Mason Beach found Zac Morgan for a reception and Morgan ran it in for a 23-yard pass play.
On Piper's next possession, Drake Pray intercepted a PHS pass deep in Pirate territory.
Not long after, Dylan Kleidosty scored on a seven-yard pass.
Working with a short field again in its next possession, Beach found a wide-open Caden Searcy in the back of the end zone and it was 35-7.
The teams traded scores before Dalton Bock's big rushing touchdown made it 42-7. A late 27-yard Bowan Jones field goal made it 45-7 and that would be the final score. The placekicker also went 6-for-6 on extra points.
The victory moved Tonganoxie one game closer to a perfect regular season. THS is now 8-0 overall, 5-0 in conference play and 2-0 in districts. THS will play Basehor-Linwood (7-1 and 4-1) with KVL and district titles on the line next week.
Friday's game will decide whether there are KVL tri-champions or whether THS wins it outright. A Tonganoxie victory Friday makes THS undefeated and alone atop the standings. A BLHS victory means Tonganoxie, Basehor-Linwood and Bonner Springs share the title, as in that scenario each team has one loss.
Interestingly enough, Tonganoxie will have conference football titles in the first and last years of the Kaw Valley League's existence. THS won the first title in 1983. The Chieftains also won league crowns in 1991, 2005 and 2006 and will add a final in 2017.
Arch rivals Tonganoxie and Basehor-Linwood, which will be in different leagues next year, will play at 7 p.m. Friday at Beatty Field.
KVL members Tonganoxie, Bonner Springs and Piper will join the Frontier League (Baldwin, Eudora, Louisburg, Ottawa, Paola and Spring Hill), while fellow KVL members Basehor-Linwood, Turner and Lansing will join Shawnee Heights, Leavenworth and De Soto to form the United Kansas Conference. De Soto is a former KVL member that left for the Frontier League. It will leave the Frontier League at the end of this school year to join the UKC.
Schedule/results
Sept. 1 at Spring Hill, W, 23-14 (1-0, 0-0)
Sept. 9 EUDORA, W, 35-7 (2-0, 0-0)
Sept. 15 at Bishop Ward, W, 61-6 (3-0, 1-0)
Sept. 22 BONNER SPRINGS, W, 28-12 (4-0, 2-0)
Sept. 29 at Lansing, W, 37-3 (5-0, 3-0)
Oct. 6 TURNER, W, 41-8 (6-0, 4-0)
Oct. 13 at Atchison ,W, 49-0 (7-0, 4-0)
Oct. 20 PIPER, W, 45-7 (8-0, 5-0)
Oct. 27 BASEHOR-LINWOOD
KVL standings
Team League Overall
Tonganoxie 5-0 8-0
Basehor-Linwood 4-1 7-1
Bonner Springs 4-1 4-4
Piper 3-3 3-5
Lansing 2-4 2-6
Turner 1-5 3-5
Bishop Ward 0-5 0-8