Spooky spots in Tonganoxie area for Halloween celebrations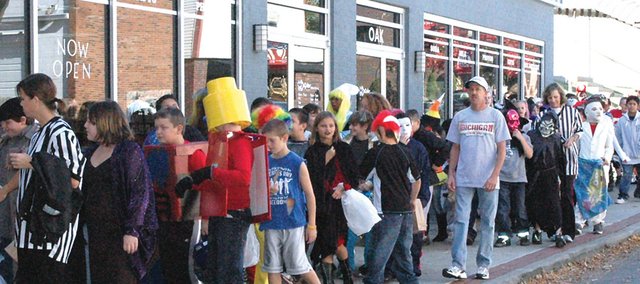 Halloween festivities are nearly here. Whether it's Spooktacular on Friday in Tonganoxie or haunted hayrides Saturday in McLouth, there are plenty of opportunities to celebrate the holiday in the area. Here is a community-by-community look at planned events:
Tonganoxie
• Spooktacular will run from 6-8 p.m. Friday in downtown Tonganoxie.
The event will have free games, food, a bounce house, a movie and, of course, candy. For youths who have allergies and can't have candy, there will be Teal Pumpkins where youths with food allergies can grab Halloween items as an alternative.
Tonganoxie Business Association and First State Bank & Trust are sponsoring a coloring contest. The entries can be picked up at Tonganoxie First State locations.
TBA and the city of Tonganoxie are sponsoring Spooktacular.
For more about the event, visit the Spooktacular 2017 page on Facebook.
• The Skeleton Scavenger Hunt, which TBA also is sponsoring, started this past Friday in conjunction with Spooktacular. For more about the hunt, which ends Thursday, can be found at the Skeleton Scavenger Hunt 2017 Facebook page.
• Tonganoxie Christian Church again will offer Trunk or Treat on Tuesday. The annual event will run 5-7 p.m. Tuesday in the TCC lower parking lot in front of the Family Life Center, 204 Washington St.
Basehor
• The Basehor Community Library will have its annual Scary Stories in the Park.
Festivities start at 7 p.m. Friday at Basehor City Park, 159th Street and Leavenworth Road.
This year's guest storyteller is Joyce Slater. Scary stories begins 7 p.m. at the gazebo in the park.
For your comfort, bring lawn chairs or blankets. Plus, enjoy free hot chocolate while supplies last.
• Right after "Scary Stories," about 8 p.m., the Teen Advisory Group invites visitors to stay and visit the Haunted Trail for a $1 donation. Children ages 3 and younger get free admission. At the end of the trail, you can enjoy a s'more in the shelter house.
All proceeds go toward the library's teen programs.
• ReeceNichols Premier Realty will have its annual Trick-or-Treat and Cookout 5-7 p.m. Tuesday at the office, 15500 State Avenue in Basehor. ReeceNichols, Sonic, American Family Insurance, The Medicine Store, Citizens Savings and Loan, Country Place Senior Living, First Baptist Church, First State Bank & Trust, Kansas Secured Title and Thomson Affinity Title are sponsoring the event.
Hot dogs, hamburgers, chips, drinks and candy will be given while supplies last.
The event is free and open to the public.
McLouth
• Enjoy the ride of your life on the Threshers Lair Haunted Hayride on Saturday at the McLouth Threshing Bee Grounds.
The hayrides are 7:30-11 p.m. Saturday. Cost is $10 per person; $5 for children ages 6 and younger.
• The McLouth Community Halloween Party will be 5:30-8:30 p.m. Tuesday at the fire station.
A costume contest will start at 7 p.m. DJ Bob will provide the music. The evening of fun, food and door prizes is sponsored by the McLouth and District No. 9 fire departments and local businesses.
• McLouth United Methodist Church will have its 14th annual "Trunk or Treat" from 6-8 p.m. Tuesday in the church parking lot. Youths of all ages are welcome to participate in activities. Decorated automobile trunks will be the place to get your Halloween candy.
This is a great opportunity for families who live in the country to participate in the festivities, as well as it being a safe environment for everyone. The church will have hot dogs, hot apple cider and hot chocolate for youths.
Linwood
• The city of Linwood is hosting its annual hayride and costume contest this weekend.
It will be 7 p.m. Saturday at the city park. Refreshments will be available. For more information, contact City Hall.