Tyson narrows list to three potential sites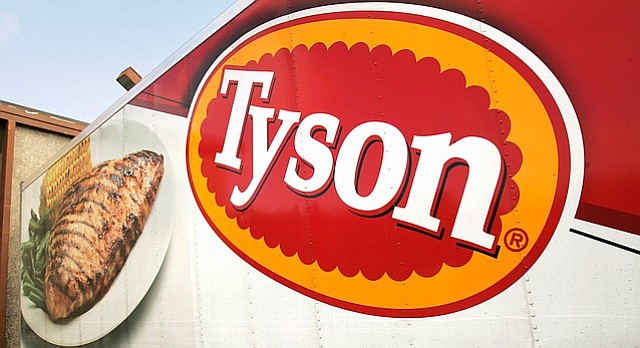 TOPEKA — Local officials have confirmed that three Kansas counties are finalists for a new Tyson Foods Inc. chicken-processing plant.
The sites are in Cloud County in north-central Kansas, Montgomery County in southeastern Kansas and Sedgwick County in south-central Kansas. Montgomery County proposed a site in Coffeyville.
State Department of Agriculture spokeswoman Heather Lansdowne said last week that 16 communities in Kansas pursued the project, and Tyson narrowed the list to three.
The company has been searching for a new site since it put plans on hold in September for building the $320 million chicken-processing plant outside Tonganoxie.
Opposition in Tonganoxie caused local officials back off support for the project.
Lansdowne said Tyson will be looking at the potential sites over "the next month or two."
Though the sites have been announced, Tonganoxie-area residents haven't taken down "No Tyson In Tongie" banners and variations of the message.
When Tyson announced it was considering other communities, it didn't say that the Tonganoxie plan was dead, but that it was put on hold.
However, the Leavenworth County Commission and Tonganoxie City Council have reversed course on incentives they were looking to implement if the plant came to fruition.
Though it has no direct involvement in the Tyson project, the Tonganoxie School Board voted, 5-2, earlier this month to approve a resolution saying it did not support such a project, which would be 2-3 miles from the plant. Board member Dan Hopkins crafted the resolution.
Board president Bryan Kemp and fellow Board Member voted against the resolution.
Discussion on the resolution was lenghty, but the board eventually brought it to a vote.
Kemp said he contacted school districts in Broken Bow, Okla., and Union City, Tenn., where Tyson also has chicken plants. School officials there said the smell of the plants wasn't an issue in their communities, nor were water issues.
He said that though he personally was against the Tyson plant coming to Tonganoxie, he was skeptical of the resolution referring to environmental concerns after his discussion with school officials in the other communities.
A patron asked whether schools actually were in similar proximity of the plants as the proposed Tonganoxie plant would be to Tonganoxie elementary and middle schools.
Kemp said he was unsure of their locations in those communities.
However, a Google map search of Union City shows the plant being in similar proximity to Union City High School. Interisingly enough, a National Guard center is also nearby.
An Army National Guard center is being built across the highway from what would be a portion of the Tyson plant if it were to still be built south of Tonganoxie.
Broken Bow's Tyson plant is south of town and is about 4 miles from the closest school, according to online maps. A state park and lake is just north of the community.
— Mirror editor Shawn F. Linenberger contributed to this story.