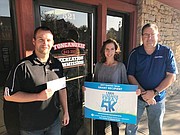 Genesis Christian Academy and the Tonganoxie Recreation Commission together have been awarded health and wellness grants from the Lawrence Memorial Hospital Endowment Association.
Funds were raised for the grant through the Summer Spray 5K this past summer.
GCA received a grant for $2,474. It will be used to expand GCA's physical education program in the area of lifetime fitness. Equipment purchased through the grant will allow students to monitor heart rates and body fat as they use a variety of equipment. The school's goal is to encourage students to find forms of exercise they can continue for a healthy lifestyle.
TRC plans to use its funds to continue to expand its Families Actively Strengthening Together community workouts in Tonganoxie. The TRC grant was for $1,700. TRC has been awarded the grant before and also utilized it to improve the FAST workout offerings.