McLouth High freshman runner qualifies for state with 4th-place finish at regional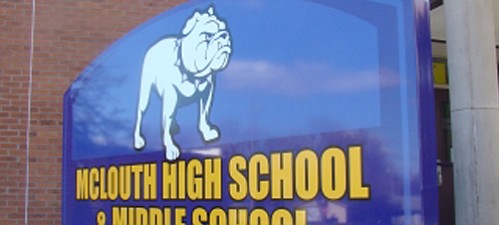 Baylee Wolfe and Ceara Funk will represent McLouth at state cross country.
Though the McLouth girls team won't compete for a team title, Wolfe and Funk qualified as individuals. Wolfe, a freshman, placed fourth (21 minutes, 40.27 seconds) and Funk, a senior finished 18th (23:19.44).
The McLouth High boys cross country team finished 11th out of 12 teams in a Class 3A regional at Riley County. Hiawatha won the meet with 72 points, while host Riley County was second with 86.
Sophomore Dakota Driskill led the Bulldogs with 32nd-place finish (19 minutes, 53.39 seconds).
Freshman August Forsberg placed 35th (20:02.55) as McLouth's top runners. Sophomore Jonah Willits placed 72nd (22:27.39), freshman Ben Arnett 89th (25:53.11) and sophomore Luke Hermann 92nd (28:28.21).
Volleyball falls at Wellsville
McLouth volleyball finished the season 7-30 after falling to eventual substate champion Wellsville on Saturday in Wellsville.
MHS, the No. 8 seed at the Class 3A substate, lost, 25-11, 25-7, to top-seeded Eagles. WHS (29-11) then defeated West Franklin and Perry-Lecompton for the substate title.
Football finishes with JCN
McLouth will conclude its football season Friday against Jefferson County North in Winchester.
MHS enters the game 0-8, while JCN is 8-0. The Bulldogs almost registered a victory last week, but fell to Doniphan West, 14-8.