Tonganoxie High soccer wins again, defeats Maranatha in overtime thriller for regional title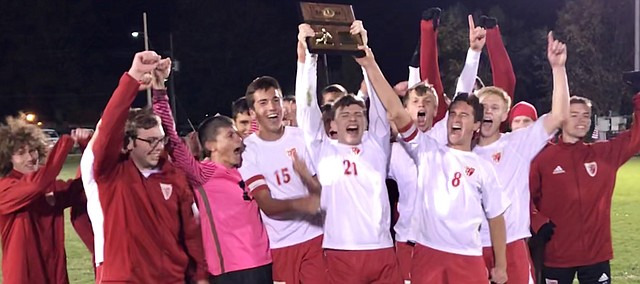 Surviving and advancing in the soccer postseason pushes the blood pressure with an oh-so-close goal and trims the nails with a nervous bit.
Tonganoxie had one of those matches against who else — Maranatha Christian Academy — Thursday in a Class 4-1A regional at Chieftain Park.
MCA pushed the Chieftains earlier this season in Shawnee. THS finally won, 4-3, in overtime that night.
It would be another overtime night in Tonganoxie. The game finished with 2:12 left in overtime when Bowan Jones' kick from 23 yards out sailed into the net. THS won the regional title, 3-2.
THS took the lead halfway through the first half when Jans Ahlen scored on an Isaiah Frese assist with 20:40 left before intermission.
MCA, though, would answer in the second half
The Eagles' Nate Raydo scored the equalizer with 31:59.
But just when MCA had the momentum, Tonganoxie answered.
Quickly.
Frese broke away and scored just 25 seconds later and Tonganoxie had the 2-1 lead.
The Chieftains controlled the ball after that, but the match was far from decided.
Raydo struck again for Maranatha with about 10 minutes left in the match, and the possibility of overtime seemed likely, though THS had its chances.
In the closing minutes, shot after shot sailed wide left, right and over.
But then came overtime. And Jones' kick in the middle of traffic from the middle of the field.
THS coach Jon Orndorff said his team started off well controlling the ball, but started to match Maranatha's counter attacks with their own. In the second half, Tonganoxie again controlled the ball well, Orndorff said.
The victory improved top-seeded THS to 16-0-2 on the season. No. 6 Maranatha finished the season 10-8.
Other Kaw Valley League teams didn't fare as well Thursday.
No. 2 Bishop Miege (15-1-1) defeated No. 5 Piper (12-6), 2-0, while No. 4 Sumner (12-2-1) blanked Basehor-Linwood (13-3-1), 4-0.
In the East Regionals, No. 4 Spring Hill (12-6) upset No. 1 Coffeyville (14-2), 1-0. No. 2 Louisburg (13-5) dropped No. 3 Independence (11-5-2).
In the Southeast Regionals, No. 1 Andover Central (15-3) outlasted Berean Academy (10-6-2), 1-0. No. 2 McPherson (13-5) dropped Buhler (10-6-2), 3-1. No. 3 Wichita Trinity (12-5) plays No. 4 Hays (11-6) today in Wichita in the last regional championship.
Orndorff now is a hard-fought 2-0 against his alma mater and the team he coached the last few seasons.
"It's a bittersweet thing," Orndorff said.
It was great seeing the players he coached perform well and improve, he said. But Orndorff also is all in at tonganoxie.
"This is just an awesome group of guys," Orndorff said. "I couldn't imagine coming into any better situation."
Tonganoxie likely will play at 6 p.m. Tuesday at home in the state quarterfinal. A victory there would advance the Chieftains to state Nov. 3 and 4 in Olathe.