Barn quilts adorn Tonganoxie Community Historic Site barn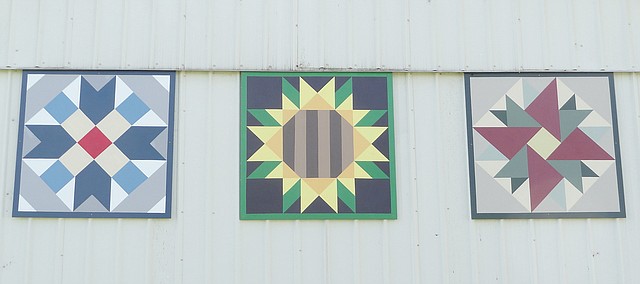 Last week, the hay barn at Tonganoxie Community Historical Society museum took on a new look.
Travelers on U.S. Highway 24-40 can look to the west to see the new look. Folks also can turn west onto Eighth Street and view the new feature near Vintage Park.
Three barn quilts now adorn the north wall of the historic site's barn. Since 2011, the north face of the barn was decorated with a canvas that celebrated the Kansas Sesquicentennial. Today, the barn celebrates the Glacial Hills Quilt Trail and becomes the centerpiece for the trail.
The designs for the three blocks on the barn were chosen by Jean Pearson, who has taught classes at the Historical Society for the past three years. She also created the Glacial Hills Quilt Trail, similar to the Flint Hills Quilt Trail. Both trails can be found on the internet by their names.
The blocks chosen for the TCHS barn have special meaning and symbolism to the historical society. The block on the east is the Farmer's Daughter. This quilt block first appeared in print in the Kansas City Star on March 16, 1935. The barn on which the barn blocks hang was built in 1932, replacing the very large barn that Frank Fairchild built at the turn of the century. That barn burned in 1928.

The granddaughter of the original dairy farmer came to own this property when it was passed on from her father, Archie Knox and his wife, Bessie, who operated the dairy farm until 1947. In 1985, this barn, the milking parlor and the silo were donated to the Tonganoxie Community Historical Society by the farmer's daughter, Mildred Young.
The centerpiece block is the Sunflower. There are many sunflower quilt patterns — this one best displays the vibrant colors of the sunflower. The wild native sunflower was designated the Kansas state flower in 1903. It greeted early settlers who traveled westward through Kansas on the many trails that crossed Kansas.
The block on the far west is the Double Aster. Asters were cultivated in the eastern United States since colonial times. Relatives of these cultivated species grew abundantly on the Kansas prairies and were known as wild asters. Like the sunflower, the aster is a member of the Asteraceae family.
TCHS members Jean Pearson, Lloyd Pearson, Janet Stuke, Janet Burnett, Kris Roberts and Brenda Shaw painted the barn blocks.
The historical society is organizing a barn quilt class for the fall. For more: 913-845-2960 or tchs2002@att.net or visit the museum 1-4 p.m. Sundays, 9 a.m.-4 p.m. Tuesdays or 9a.m. to noon Wednesdays.